Esports Team Wins Tournament, Awarded Scholarship Money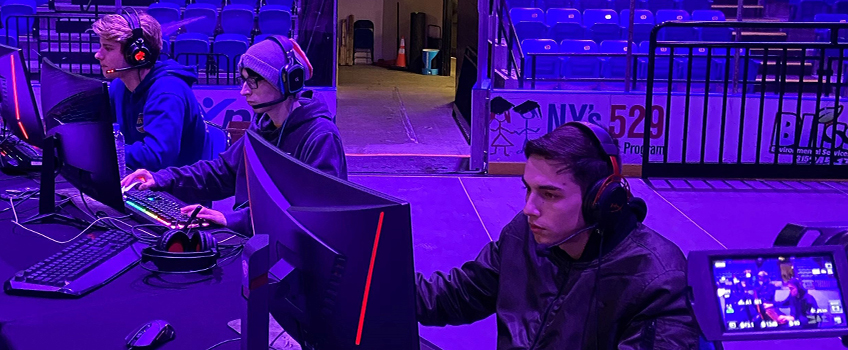 Galloway, N.J. – After qualifying through online play over the last few weeks including a final win over Central Connecticut College, Stockton's Rocket League Esports team consisting of Alex Lee of Linwood, Vincent Nelson of Bayville and Geno Copertino of Brigantine attended the Alpha North Esports "Battle of the Colleges" on Feb. 8 at the Adirondack Bank Center in Utica, New York.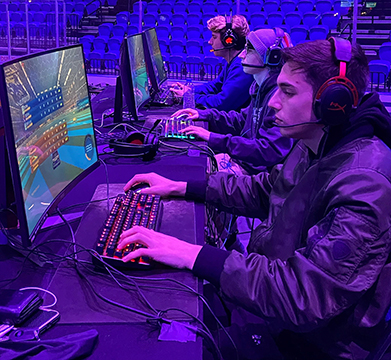 The team competed against many other schools who qualified for the tournament including Penn State University, Syracuse University, University of Rochester, Farmingdale State College, Molloy College, Randolph Macon College and Long Island University.
"Approaching the event, our esports program believed Stockton had a good chance of winning the tournament, having performed extremely well in tournaments preceding Battle of the Colleges," said Stockton Chief Information Officer Scott Huston, who with Associate Director of Information Security Demetrios Roubos has worked with Stockton Athletics to develop the program.
In the first round, Stockton defeated Farmingdale State College in Quarter Finals 3-0, University of Rochester 3-0 in Winners Semi-finals and Penn State University 3-0 in Winners Finals sending them to Losers Finals. After a competitive series in the Losers bracket, Penn State University defeated University of Syracuse 3-2 to meet Stockton in Grand Finals.
Stockton again defeated Penn State in the Grand Finals 3-0, taking home $3,000 in scholarships for the players. Stockton Rocket League performed undefeated during the entire tournament.
Stockton's Rocket League team is currently power ranked as the #2 strongest team competing in the Collegiate Star League out of over 800 participating colleges and universities. The team will continue to compete throughout the spring semester in various leagues and tournaments.
"Currently ranked among the top 8 collegiate teams in North America, Stockton's Rocket League team is becoming fairly well known within the collegiate esports community," Roubos said. "The team has been playing together for about a year, and through unparalleled commitment, comradery and skill, they have achieved greatness and set an excellent example for their colleagues."
Reported by Mandee McCullough