Rocket League Team Places 3rd in Conference
Galloway, N.J. _ Stockton University's Rocket League Esports Team placed third overall in the North American Fall Collegiate Rocket League (CRL) 2020 Eastern Conference Division.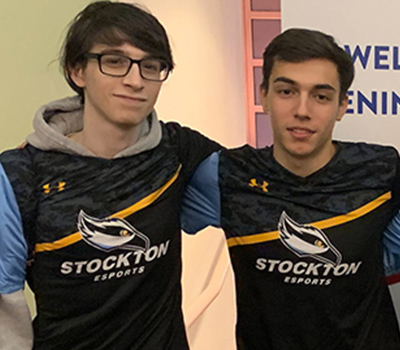 The team of Vincent Nelson (captain), Geno Copertino of Brigantine and Brian Busse finished 11-4 during the regular season, with wins against Ohio State, University of North Carolina, University of South Florida, Florida Polytechnic, and Waterloo in Ontario, Canada. They also qualified for the CRL Wildcard Tournament in December to potentially earn a berth in the National Championship.
In a game against Florida Polytechnic, the team had a record-breaking win, scoring 13 goals on just 17 shots.
Nelson, a Business major from Bayville, said a highlight of the season for him was beating NOVA (Northern Virginia Community College) in the playoffs.
"They are a rival of ours In CRL and it means a lot to win a series against them in such convincing manner," Nelson said.
Demetrios Roubos, Stockton Esports program manager, said the Rocket League team is the program's most competitive. Nelson has qualified for the RLCS professional circuit Season 10.
"We have students participating in a variety of leagues including the Eastern College Athletic Conference," Roubos said, "but our performance in the CRL really showcases top-tier Rocket League play."
Nelson started playing Rocket League about four years ago and said he likes the camaraderie among players.
"I like Rocket League because it helps me meet a ton of wonderful people I would otherwise not have the chance of meeting," he said. "I have a lot of good friends through the game at this point and that is invaluable to me."
(Pictured are Geno Cupertino and Vincent Nelson. Photo of Brian Busse was unavailable)
# # #
Contact:
Diane D'Amico
Director of News and Media Relations
Galloway, N.J. 08205
Diane.D'Amico@stockton.edu
609-652-4593
609-412-8069
stockton.edu/media