Esports Team Finishes Second in Conference
Galloway, N.J. – Stockton University's Rocket League esports team finished the spring season in second place in the 2020 Collegiate Rocket League eastern conference playoffs.
The team of Vincent Nelson from Bayville, Geno Copertino from Brigantine and Alex Lee from Linwood was ranked sixth in the conference going into the playoff tournament. The games were played remotely from March 16-18.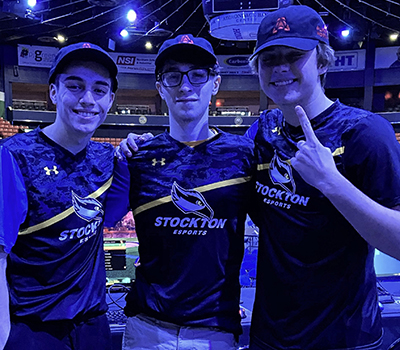 "Stockton's Rocket League team has consistently performed at an extremely high level, winning several tough match ups to make it into the 2020 CRL playoffs, and ultimately defeating Rowan in the semis. They really stepped their game up this season and are playing so well together." said Demetrios Roubos, esports program manager and coach, and Associate Director of Information Security at Stockton.
In the playoffs Stockton defeated teams from the University of Ottowa, University of North Texas, University of Michigan, and Rowan University. Stockton ultimately defeated Rowan 4-1 in the semifinals, winning almost $4,000 in scholarships. Stockton also defeated teams from Ohio State University, University of South Florida, University of Central Florida, and the University of Georgia during the regular season.
The same team also won the Alpha North Esports "Battle of the Colleges" on Feb. 8 at the Adirondack Bank Center in Utica, New York.
"We are really proud of the success of our esports teams," said Stockton Chief Information Officer Scott Huston, who helped organize esports at Stockton. "We are only in our second year, and Stockton esports teams have already developed a national reputation."
Stockton esports also compete in Fortnite, Overwatch, League of Legends, Smash Brothers and Hearthstone. In 2019 the Fortnite team won the ECAC Championship. More information on esports at Stockton is at esports.stockton.edu.
The match with Rowan can be viewed on Twitch at: https://www.twitch.tv/videos/570078128?t=33m0s
# # #
Contact:
Diane D'Amico
Director of News and Media Relations
Galloway, N.J. 08205
Diane.D'Amico@stockton.edu
609-652-4593
609-412-8069
stockton.edu/media