Residential Life Links Students to the Community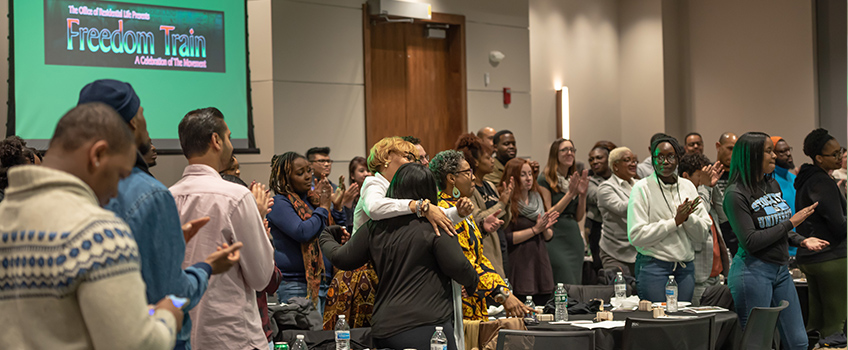 Atlantic City, N.J. – The Office of Residential Life debuted its new Program of the Month series in February with a dinner theatre event highlighting Black History Month in the Fannie Lou Hamer Event Room at Stockton University Atlantic City.
"Freedom Train; A Celebration of the Movement," featured performances by students using their artistic expression to honor and celebrate important and influential pioneers throughout American history.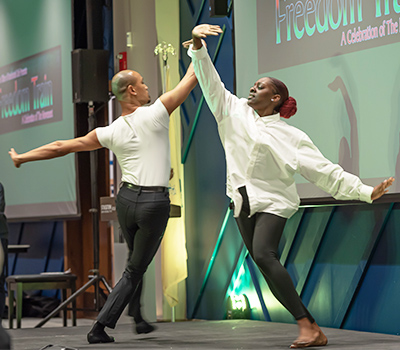 The event was planned and coordinated by the resident assistants, in collaboration with Stockton Music Union, Highest Praise Gospel Choir, and Stockton Color Guard.
The packed audience included students, faculty, staff, and community members from the Atlantic City Board of Education, NAACP, AtlantiCare, Department of Children and Families, Spirit Airlines, and more. One of the goals of the resident assistants is to involve the community in the performances and the attendance.
Students also had the opportunity to talk with staff from the Dean of Students office, Atlantic City Operations, Campus Police, Office of General Counsel, Student Development, Student Transition Programs, Plant Management, and GEAR UP.
Associate Director for Residential Education Marques Johnson said the Program of the Month series is designed to provide students with transformative learning experiences that prepare them for lifelong learning and engaged citizenship in a multi-cultural, independent world.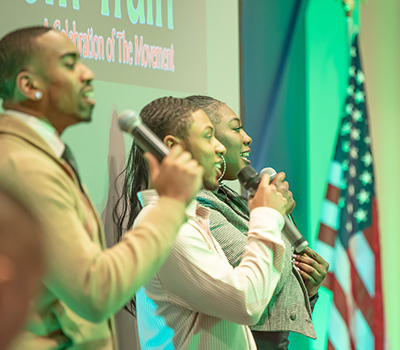 The March program, "Legends and Destined," will celebrate the achievements of female faculty, staff and students. Twenty-five area women will be celebrated for their commitment to students and excellence. The event will be held at 6 p.m. March 23 in the Fannie Lou Hamer Event Room in Atlantic City.
The April program, "Dear World," focuses on embracing and celebrating diversity. It will feature a series of letters written by students in the community, looking at life from their perspective. It will be held at 6 p.m. April 1 at Dante Hall, 14 N. Mississippi Ave. Atlantic City.
"The program creates an opportunity for students, faculty, staff, and members of the community to hear first-hand stories, and to connect with one another; recognizing our humanity is what connects us, but our compassion is what will carry us," Johnson said.
# # #
Contact:
Diane D'Amico
Director of News and Media Relations
Galloway, N.J. 08205
Diane.D'Amico@stockton.edu
609-652-4593
609-412-8069
stockton.edu/media