Participants Sought for COVID-19 Impact Survey
Galloway, N.J. – Stockton University faculty are collaborating on a research study on public response to the COVID-19 pandemic and how it has shaped the lives of people around the world.
The researchers are looking for a broad range of people ages 18 and older to take the online survey at COVID-19 International Survey or https://tinyurl.com/COVID-19InternationalStudy. It should take about 20 minutes to complete.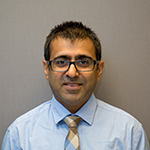 "We want people from all walks of life to help us gain a deeper understanding of this important public health issue, and its political and social ramifications, both domestically and internationally" said Stockton Associate Professor of Criminal Justice and principal investigator of the study, Manish Madan.
All responses are anonymous and participants can withdraw from the survey at any time. There are 50 $10 Amazon gift cards being awarded to participants who complete the survey. Those who wish to participate in the drawing are asked to provide an email address for notification.
The project also has financial support from Saint Vincent College's Criminology, Law, & Society Department and Texas A&M University - San Antonio's Department of Social Sciences.
Anyone with questions about the study can contact Manish at 609-626-3530 or email him at manish.madan@stockton.edu; Sarah Daly at sarah.daly@stvincent.edu; Brenda Rowe at brenda.rowe@tamusa.edu or Ashley Blinkhorn at ashley.blinkhorn@colorado.edu.
# # #
Contact:
Diane D'Amico
Director of News and Media Relations
Galloway, N.J. 08205
Diane.D'Amico@stockton.edu
609-652-4593
609-412-8069
stockton.edu/media