Online Summer Enrollment on the Rise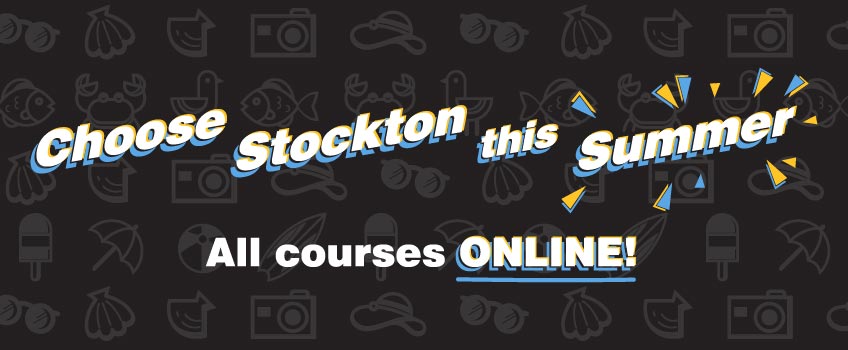 Galloway, N.J. – What do you do when you can't leave the house? More Stockton University students are deciding to continue taking classes.
Stockton is offering more than 350 classes online this summer and students are responding. Enrollment for summer classes, which start May 18, is already 11 percent ahead of Summer 2019, with more than 2,500 students taking classes as of May 12. The total number of credits being taken has increased 14 percent.
Following state guidelines Stockton is not offering any in-person classes this summer. All classes are being delivered remotely.
Stockton Interim Provost and Vice President for Academic Affairs Michelle McDonald said several factors appear to be contributing to the increase in summer enrollment.
Summer jobs are less certain right now, so students are taking the opportunity to catch up or get ahead in their degrees. Students who had a positive experience finishing the spring semester online are now more comfortable and confident taking online classes.
"More Stockton students experienced online classes as an option this spring than ever before," McDonald said. "Our faculty have been creative and students responded."
Student Gaetano "Guy" Ricciardi of Lyndhurst is taking three summer classes because he switched majors and is also enrolled in Stockton's teacher preparation program. The classes will allow him to catch up and get a little ahead for his junior year. He had never taken an online class before but said the spring semester experience convinced him he could do it even while working at a pizza parlor in Atlantic County.
"It is different online," he said. "But I Iike working at my own pace and it worked for me. I miss having (in-person) classes, but if we have to stay online, I'm ready."
Some students who lived on campus and received refunds for housing and meal plans are opting to apply those funds toward summer tuition. More than 20 percent of students who received the refunds are registered for a summer class. Summer classes are also eligible for federal financial aid.
Stockton University courses this summer span three sessions: Monday through Thursday, May 18 - June 25; Monday and Wednesday or Tuesday and Thursday from May 18 – July. 27; and Monday through Thursday June 29 – Aug. 10. Summer internships are also available.
Courses cover a wide variety of topics in all disciplines and include required courses and electives. A sampling of courses includes Introduction to the Health Sciences, Quantitative Business Methods, Statistics for Criminal Justice, A History of TV Cooking Shows, Statistics and Sports, and Introduction to Medical Marijuana.
Online courses are open to current students enrolled, non-matriculated students, and students currently enrolled at other institutions who can Stockton credits to another university.
More information is available at stockton.edu/summer.
# # #
Contact:
Diane D'Amico
Director of News and Media Relations
Galloway, N.J. 08205
Diane.D'Amico@stockton.edu
609-652-4593
609-412-8069
stockton.edu/media