Gov. Murphy Announces Energy Master Plan at Stockton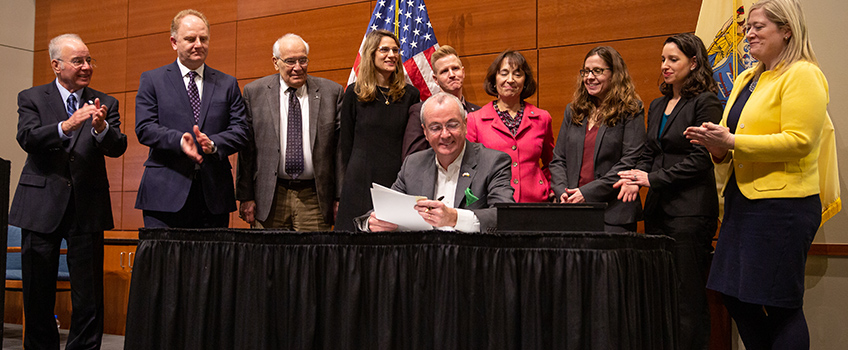 Galloway, N.J. – New Jersey Gov. Phil Murphy signed Executive Order 100 on Monday at Stockton that will implement his Energy Master Plan titled Protecting Against Climate Threat, or PACT.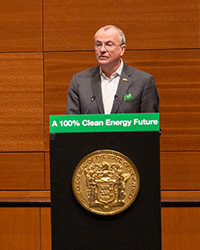 In making the announcement at Stockton, Murphy cited Stockton's long commitment to degree programs in such fields as environmental science, marine science, sustainability and coastal zone management.
There is literally no better place for us to release our ambitious and exciting Energy Mater Plan," Murphy said. "The minds we will need for our future and our efforts to fight climate change can be found on this campus. Stockton is a gem."
In 2018 Stockton opened a new Sustainability Lab where students can study and work on solar panels and windmills. The university's Coastal Research Center has tracked decades of research on erosion along the Jersey shore. Stockton also has a partnership with Ǿrsted, which planning an offshore wind energy project.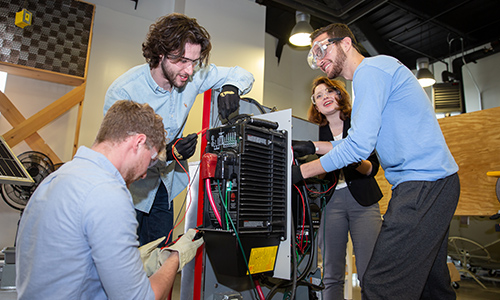 Murphy said the new plan will make New Jersey a leader in creating jobs in new energy fields and addressing climate change. The goal is to have 100% clean energy in New Jersey by 2050.
"We can show what can happen when you combine smart public policy with new technology," Murphy said. "We can prove that we can grow the economy, create jobs and fight climate change."
Murphy said he was New Jersey to dominate the clean energy economy.
"I want those jobs here in New Jersey," he said.
Stockton President Harvey Kesselman said the topic is great importance to Stockton, which is located in 1,600 protected acres in the Pinelands National Reserve.
"We are passionate about the environment," he said. "Our commitment extends beyond our classrooms to hands-on fieldwork."
Contact:
Diane D'Amico
Director of News and Media Relations
Stockton University Galloway, N.J. 08205
Diane.DAmico@stockton.edu
609 652-4593
609 412-8069
stockton.edu/media