Almost 1,000 Volunteer for MLK Day of Service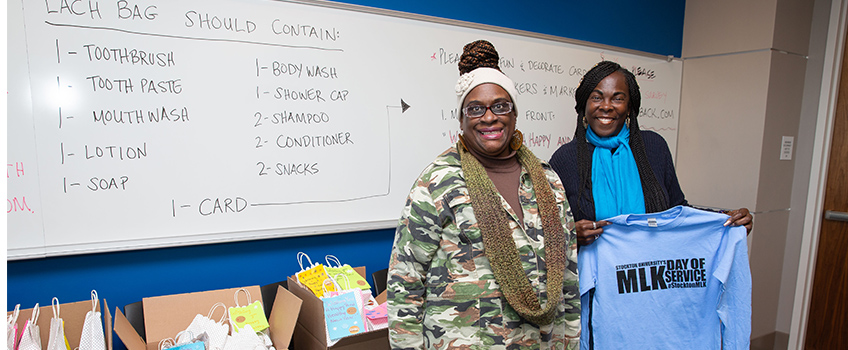 Galloway, N.J. - From the three Gribbin sisters, (Grace, 10, Brynn, 7, and Paige, 4) to the venerable Mama "T," who didn't let a wheelchair slow her down, almost 1,000 Stockton students, faculty, staff and community residents turned out at multiple sites in three counties for the 16th annual Stockton University Martin Luther King Jr. Day of Service.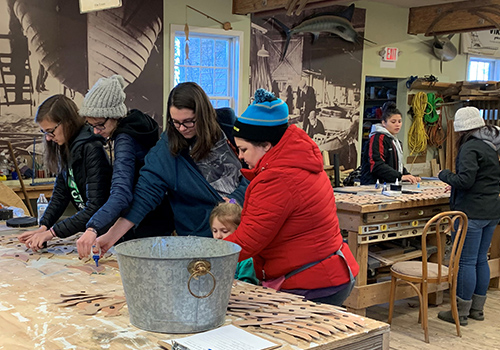 The outdoorsy crowd took on the chilly, but sunny day for cleanup projects at the beach in Atlantic City, Hammonton Lake Park, New Gretna Playground, Barnegat EcoCenter, South Jersey Horse Rescue and Edwin B. Forsythe National Wildlife Rescue Kids Discovery Area.
Those inclined to more indoor activities made tote bags out of old t-shirts, sorted donated clothing, foods and books, wrote letters for Amnesty International, and made valentines for children at St. Christopher's Hospital.
"The purpose of this day is to honor Dr. King through service to others," President Harvey Kesselman said at the opening breakfast. "We are sharing his commitment of impacting lives through service. Martin Luther King, Jr. Day has been the catalyst for a movement of everyday people to get involved. I thank you for using your day off as a day 'on.' "
Annual service awards recognize members of the Stockton community for their commitment to service all year round. Assistant Provost Thomas Grites, who chairs the awards committee announced the 2020 recipients:
Undergraduate: Alex Franklin, a member of the Student Senate, Coalition for Women's Rights, and First Ospreys who also worked on the efforts to create an expanded Women's, Gender and Sexuality Center on campus.
Graduate: Taylor McKay, a 2018 Health Sciences graduate who is now in the graduate Communication Disorders program and has remained active with Circle K, where she served as chapter president while at Stockton and is now a district governor.
Club or Organization: Amnesty International, which holds several awareness and activity events on campus including the "write for rights" campaign.
Faculty: Arleen Gonzalez, associate professor of criminal justice, who has helped many students prepare to apply for law school, and is active with Unidos and the Hispanic Alliance of Atlantic City. The first Puerto Rican to get tenure at Stockton, she has also assisted with events to assist the country.
Staff: Joseph Thompson, assistant director of student development, for going above and beyond his job description to assist students.
Alumnus: Mohammed Ullah, a 2019 health sciences graduate, who is now a case manager for the Big Brothers, Big Sisters of Mercer County and has been active in raising awareness of substance abuse.
After the program, volunteers quickly got to work.
Laura Birnbohm, a Stockton alumna and artist who works at the Atlantic City Aquarium, Kelly McLaughlin, an environmental steward who posts as @KellyTalksTrash on Instagram, and Stacey Williams, a Surfrider member, tallied 98 cigarette butts on the beach bordering the boardwalk within the first 15 minutes or so. The data collected will help identify the type of recycling receptacles that are needed most and where to install them.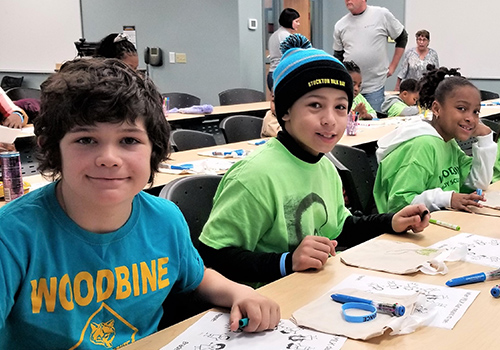 Students Paige Richards and Danielle Madiraca coordinated the trip to the Forsythe refuge where they raked, moved logs and cleaned up broken glass to make the children's area safer.
At the Stockton Atlantic City Academic Center volunteers transformed heaps of donated clothing into neatly folded piles in the Atlantic City Event Room. In a classroom, 414 children's books were sorted to send to children and grandparents in Atlantic City apartments, and New Year wishes were added to hospitality bags filled with toiletries and treats for residents at the Rescue Mission and Covenant House.
"I love it. I'm a people person," said Vanessa Hudgins Wilkerson '10, who was born and raised in Atlantic City, worked at Resorts as a "day one dealer" and earned a degree in social work at Stockton after working for the Division of Youth and Family Services and in daycare.
Members of Hammonton High School's Leo Club and Craft Club came with advisor Shelley Henley to Stockton's Kramer Hall to make tote bags from old t-shirts. Hammonton Lions Club members will work with the Hammonton Green committee to distribute the bags.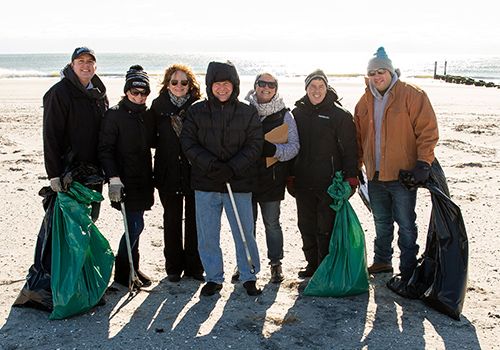 For Tom and Sarah Gribbon and their three daughters, the day is an annual project.
"We've come every year for the past four or five," Tom said. "We are glad that Stockton provides this opportunity to teach our daughter who and what this day is about."
Members of the Atlantic City Alumnae Chapter of Delta Sigma Theta Sorority, led by Diane Epps, brought members of its younger groups, the Dr. Betty Shabazz Delta Academy and the Dr. Jeanne L. Noble Delta Gems, to help Active Minds paint inspirational messages on rocks and buttons at the main Galloway campus.
And even recent surgery couldn't keep Mama "T" from participating. With a little assistance from friend Edward Malek, she sorted books for Books without Borders on the Galloway campus.
"I wouldn't miss this," she said.
At Tuckerton Seaport, guests helped with maintenance projects, and did craft projects. Volunteers from South Jersey Gas and the Woodbine Family Scout Troop collected canned goods and decorated tote bags at Stockton's Sam Azeez Museum of Woodbine Heritage.
The annual event is coordinated by the Stockton Office of Service Leaning, Stockton's chief operating officer for Atlantic City Brian Jackson, and Americorps Changebuilders Community Engagement Coordinator at Stockton Veronica Rowland.
Erin O'Hanlon, interim coordinator of the Office of Service Learning said it was especially gratifying to see the number of community groups, scout troops, and others who participate alongside Stockton students.
"This was a good day for community service," Rowland said.
View a gallery of photos on flikr.
(Report compiled by Diane D'Amico and Susan Allen)
Contact:
Diane D'Amico
Director of News and Media Relations
Galloway, N.J. 08205
Diane.D'Amico@stockton.edu
609-652-4593
609-412-8069
stockton.edu/media