Alumni Honored at Annual Coining Ceremony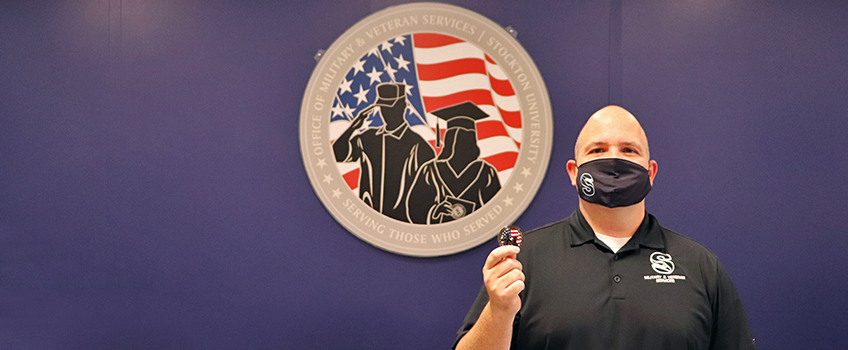 Galloway, N.J. - Class of 2020 graduates with ties to the military were finally honored and presented with Stockton challenge coins in a virtual ceremony Oct. 22.
Seventy seniors were eligible to receive the coins last spring. However, due to the ongoing coronavirus pandemic, the ceremony was postponed.
Director of the Office of Military and Veteran Services Jason Babin said of the Zoom ceremony: "While we wish you could be here with us during this important event, the entire Stockton community, from the president and the provost to the staff and faculty, want to congratulate you on your amazing accomplishment, and we look forward to your many future successes."
The event featured remarks by Babin, along with a video from Stockton staff and faculty congratulating veteran alumni on their achievements.
Babin explained the meaning of the coining tradition:
"Members of the U.S. military have a long-standing tradition of carrying a special coin symbolizing unit identity and esprit de corps. With bonds forged in battle thousands of miles from home, these custom coins minted by military units – each bearing their own revered symbols and mottos – capture the essence of their affiliation and their fierce pride. Known to generations of American military personnel as challenge coins, they are a vital part of military life today and are revered by troops in every branch of service.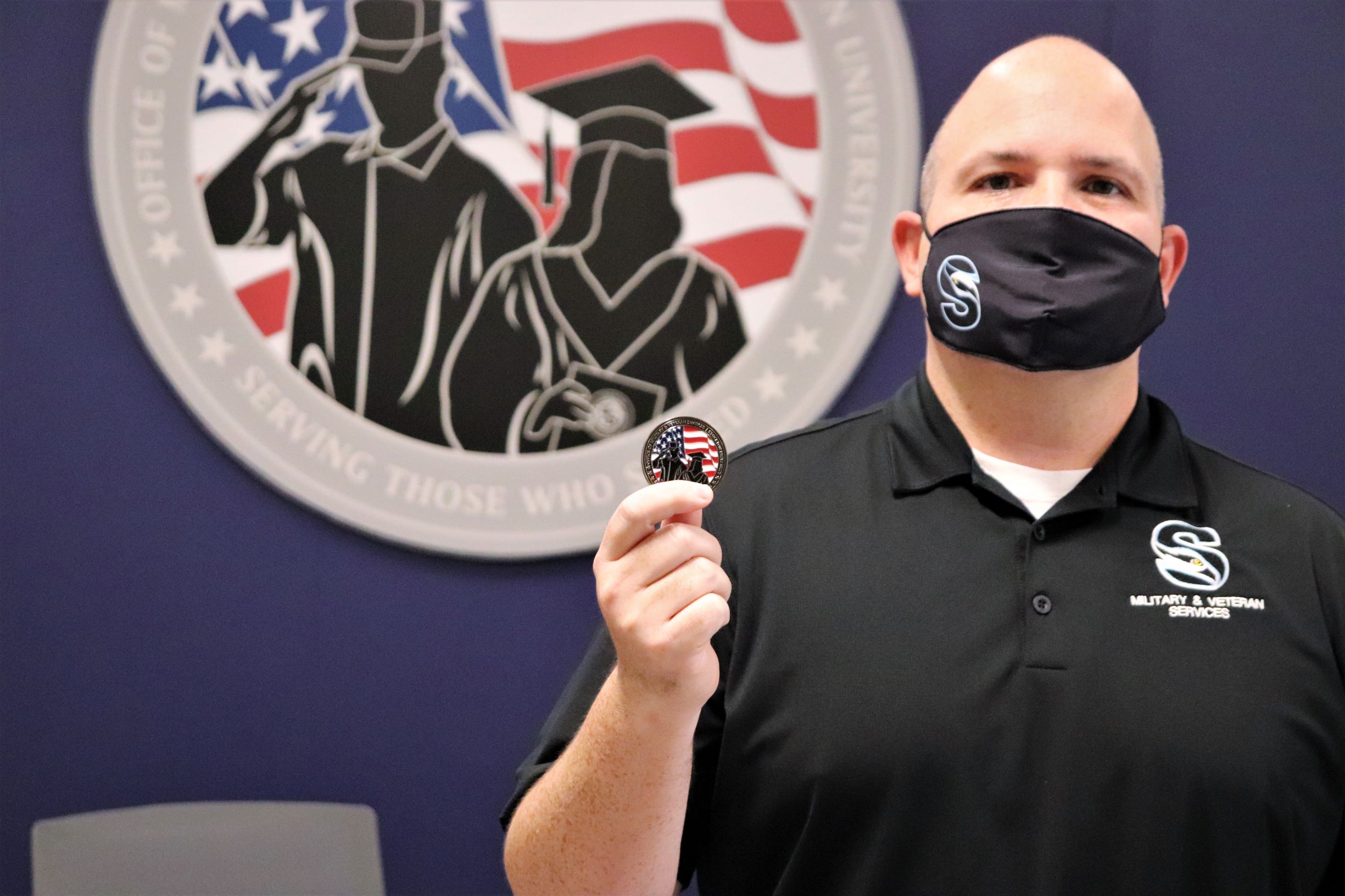 "Today, challenge coins are carried by soldiers, sailors, airmen and Marines, as well as lawmen and firefighters. These coins identify the bearer as a member of a particular unit with a well-defined history and mission. And, wherever warriors gather, they challenge each other by 'coining.' The group's unique coin is slammed on a bar to challenge all in the group to display their own coins; he who is last must pay a penalty, which is typically buying a round of drinks for everybody who participated."
The tradition of challenge coins can be traced to World War II when American forces deployed to the far reaches of the globe securing the nation's freedom. Soldiers back to World War I and the Civil War left for battle with a coin from home in their pocket and kept it after the conflict as a lasting remembrance of their wartime experiences.
"A challenge coin is not merely a token. Challenge coins today are a tangible source of pride for American warriors at every level in the chain of command," Babin said. "Today, we will be presenting our graduates with one such coin to symbolize our commitment to them and their commitment to us."
Recognized graduates include: Aamad Abro, Rebecca Adap, Douglas Biemiller, Lashel Blunt, Michelle Bonano, Alexander Brezo, Nicholas Cadira, Michael Caprara, Courtney Causey, Lapell Chapman, Eric Cheatham, Tobias Chislom, Angel Cordero, Bertilio Correa, Makenzie Cox, Kellie Dodson, Kevin Fernandez, Matthew Fernandez, Josef Gibbs, Caitlin Gillum, Pamela Gittle, Brendan Helm, Eduardo Hernandez Portillo, Brian Higgins, John Hoang, Philecia Howard, Michael Iside, Tashea Jackson-Medley, Lisa Jiampetti, Ashley Jones, Steven Keeny, Saif Mahmud, Michael Martelli, Jeremy Mawhinney, Nicholas McLaughlin, Jennifer Mellish, Adrienne Mingo, Tony Moore, Daniel Moran, Zacchaeus Muntazar, Ryan Murphy, Sean Nitahara, Kaitlynn O'Halloran, Fredrick Paris, Brian Perez, Sabrina Perry, Anthony Pierce, Michael Plantamura, Kendra Pritchett, Timothy Richardson, Amy Robertson, Ryan Rodriguez, Mary Ruiz, Robert Scarabino, Darian Schloss, Karlee Severns, Sarah Sheret, Haley Shinn, Michael Simons, Matthew Singh, Jared Spitz, Sean Sullivan, Erik Tarnow, Joseph Treen, Macie Wareham, Shatira Williams, Amoya Williams, Shaquan Williams, Lydia Wilson and Spencer Wilson.
Reported by Eliza Hunt