Stockton Recognizes LGBTQ History Month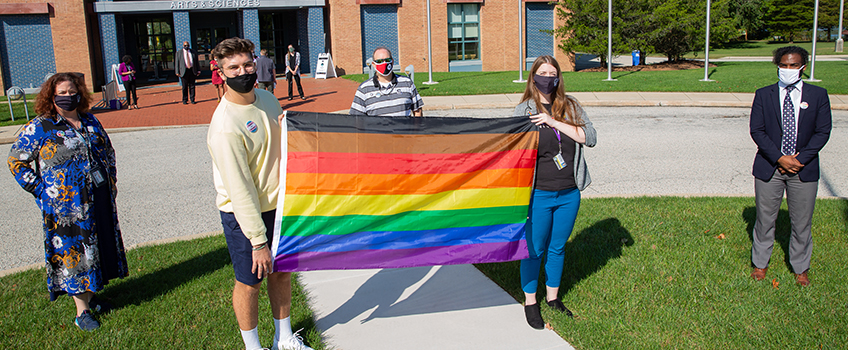 Galloway, N.J. – The Stockton Community kicked off LGBTQ History Month with a flag raising in the Arts and Sciences Building circle on Oct. 1.
"We are here to celebrate the rich history of this community, which includes activists, writers, politicians and artists," said Rebecca Longo, assistant director of the Women's, Gender and Sexuality Center (WGSC) at Stockton.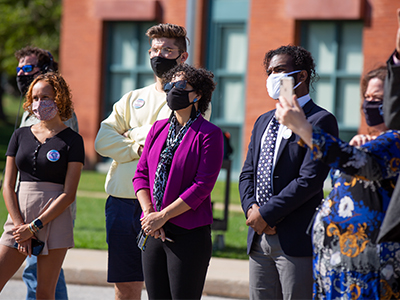 Student Ben Dziobek, the resident assistant for the House of Lavender at Stockton, said they strive to create an inclusive community and campus, and maybe a little more perfect world.
He called the flag a symbol of perseverance, strength, acceptance and social justice.
"This represents a community that won't back down when faced with inequities that persist," Dziobek said. "It is a battle flag for representation. All of us should take time to learn and create an inclusive environment."
Associate Director for Residence Education Marques Johnson said life as an LGBT black man can be difficult, but not everyone can be open and transparent about who they are and it is important to create spaces where everyone can feel safe.
"I thank you for making spaces where we can all feel safe and loved," he said.
WGSC Director Laurie Dutton said the center's lounge in F103 is open from 10 a.m. to 4:45 p.m. Monday through Friday and students are visiting daily following COVID-19 guidelines. She noted that October is also Domestic Violence Awareness Month.
The center's staff is also available by phone and email from 9 a.m. to 5 p.m. Monday through Friday at 609 626-3611 or wgsc@stockton.edu. The 24/7 hotline is available at 609 849-8473.
# # #
Contact:
Diane D'Amico
Director of News and Media Relations
Galloway, N.J. 08205
Diane.D'Amico@stockton.edu
609-652-4593
609-412-8069
stockton.edu/media