Florio Urges Students to Get Engaged and Informed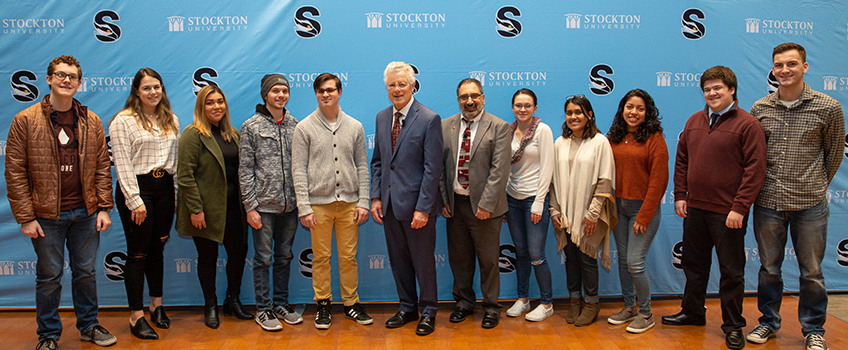 Galloway, N.J. – Former Gov. Jim Florio told Stockton University political science students that if they want to change government, they have to personally become "engaged and informed."
"A participatory democracy requires it," Florio said during a talk sponsored by the William J. Hughes Center for Public Policy in the Campus Center Event Room on Feb. 20.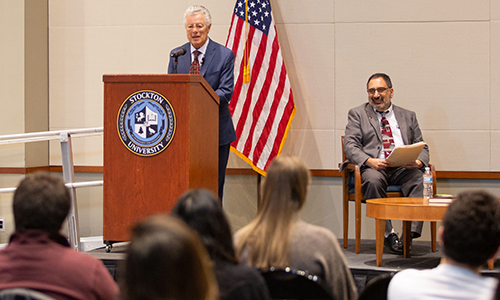 Florio, author of the book "Standing on Principle," talked about issues that continue to concern him, including climate change, gun violence, pharmaceutical and health care prices, the state of the New Jersey public pension system and budget, and the state's infrastructure.
He said he is worried that politicians continue to try to solve modern problems with old solutions that are outdated and can no longer work.
Florio cited his success in passing legislation restricting military assault weapons, though he noted that it took a lot of work to battle the National Rifle Association.
Florio is working to develop offshore wind farms and said Europe has been ahead of the U.S. in tapping wind power. He cited the new industries and jobs that could bring to the state.
"It is important for young people planning their professions to find one that is relevant to the future," Florio said.
Florio served in Congress from 1975-1990 and as governor from 1990-94 and was awarded a Distinguished Lifetime Achievement Award at the Hughes Center Honors in 2019. He recalled getting involved in politics while a young man in law school. He said he disputes those who say government is not the answer to problems, but is the problem.
"Government is not good or bad," he said. "It is a tool to be used. I get so annoyed when people say that they are too 'good' to get involved in politics. If the good people drop out who is left?"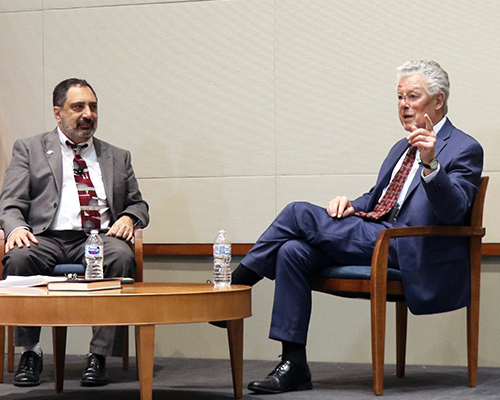 He said issues like gun control and a women's right to choose have broad public support, but get less political support because of the power and money of special interests.
Students asked questions ranging from the issues facing New Jersey, to federalism, how to solve New Jersey's pension fund shortage, and what more could be done to help South Jersey.
Florio said he was the last governor to fully fund the state pension system. He said the deficit is now so large that no one really wants to take on the reality of the tough decisions that need to be made.
Florio urged the students to maintain their independence, listen to all views, and become informed on the issues.
"What a university like this does is give you options," he said. "But you have to evaluate your options and think logically to make decisions. Don't get so invested in an idea that you can't walk away from it if it starts to make you uncomfortable."
Asked about how to deal with "fake news," Florio reiterated that people have to do the work of being informed.
"You have to make decisions, then get participation to implement those decisions," he said. "It's a lot of retail work, which is often the work people don't want to do. People may support something, but they also need to be organized."
Asked if there is room today for a bipartisan candidate, Florio said the political pendulum has currently swung far to the right, and the tendency would be for it to now swing back toward the middle.
"People are saying that something is wrong," he said. "People have jobs, but are still not earning enough to meet their basic needs."
Hughes Center Executive Director John Froonjian said that even during partisan battles with the state Legislature, Florio was able to keep the debates civil and professional. He asked how government could return to being more civil.
Florio said as society has become less civil, so has government.
"Government reflects society," he said. "It starts with all of us. We have to do it one by one and hold ourselves responsible. We have to be capable of some shame."
# # #
Contact:
Diane D'Amico
Director of News and Media Relations
Galloway, N.J. 08205
Diane.D'Amico@stockton.edu
609-652-4593
609-412-8069
stockton.edu/media