Recreation Council Presents Awards
Galloway, N.J. _ Each year, the Intramural Recreational Council (IRC) bestows three awards to members of the Stockton University community.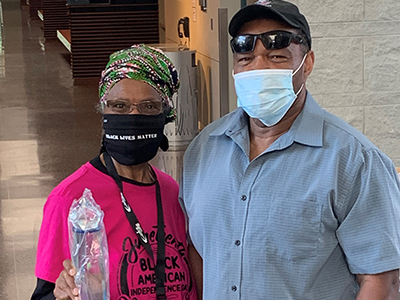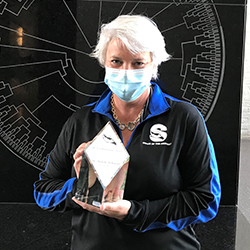 While COVID-19 restrictions made presenting the awards a bit more challenging, James Gwathney, coordinator for Intramurals and Recreation, donned his mask and delivered this year's awards.
The 2020 Dr. Vera King Farris Award recipient is Interim Provost and Vice President for Academic Affairs Michelle McDonald. The award, named for Stockton's former president, was created in 2001 to commemorate a selfless character within the University community. Previous recipients include Professor Emeritus of Social Work and Africana Studies William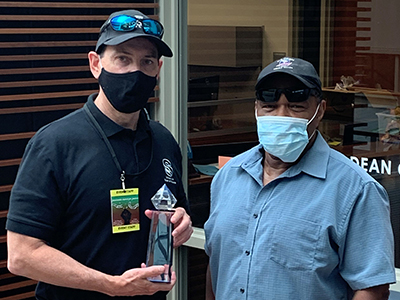 Jaynes, Professor of Communication Studies and coordinator of Africana Studies Donnetrice Allison, Professor of Music Beverly Vaughn and former Stockton Athletic Director and gold-medal Olympian, the late G. Larry James,
The 2020 recipient of the Shannon Newberry Award is Assistant Director of Student Development Dianne Stalling. This award is given to those who have proven their merit in their actions and have worked hard at making Stockton University a better place to learn, teach and have fun while doing it. Previous winners include Professor of Philosophy Anne Pomeroy and Women's Track and Field Coach Todd Curll.
Craig Stambaugh received the 2020 G. Larry James Award, which honors a member of the Stockton community who excels in athletics, academics and charitable work. Previous recipients include Men's Lacrosse Team Coach Kevin Zulauf and Stockton student athlete Jared Lewis.
# # #
Contact:
Diane D'Amico
Director of News and Media Relations
Galloway, N.J. 08205
Diane.D'Amico@stockton.edu
609-652-4593
609-412-8069
stockton.edu/media