Press of A.C. Interns Help Produce Special Section
Galloway, N.J. – Each spring, The Press of Atlantic City publishes a special Young Leaders section, honoring talented high school students who are nominated by their schools and communities. An independent panel of judges selects twenty-five students from the nominees to be Young Leaders.
This year, The Press also enlisted six Stockton University student interns to help produce the section, which features biographies and photos of the selected students.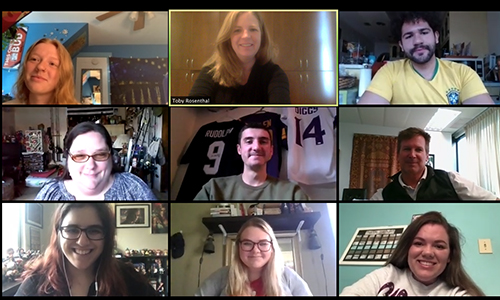 For the Stockton interns, Gabrielle Brodde, Edward Kovalski, Emily Montgomery, Paige Crain, Andrew Torres and Marissa Luca, it was an opportunity for real-life journalism experience.
Brodde, of Milford, said each intern was assigned five students to interview, collect pictures, and create a 60-second video of them. The students said they learned a lot about the skills required to do a good interview.
"I sat down with five high school seniors via Zoom and we talked about multiple topics regarding their lives and their roles as leaders. I learned a lot about these five individuals and how much they do for the good of humanity," said Kovalski, a graduating senior from Spotswood.
Montgomery, who is from Palmyra, said the students were all pleasant and easy to talk to, which make the interviews easier.
"I would say I learned a lot more about interviewing skills," Montgomery said. "You should always ask more than just the surface questions. Dig deep and get as much information as possible."
Along the way there were several challenges, especially related to COVID-19, but the students overcame them in unique ways.
"A challenge I faced was trying to get in touch with the students in the beginning, whether it was contacting their guidance counselor or their parents to try to reach them," Brodde said. With this crisis, everybody's emails are filled with messages from teachers or other students contacting them, so I tried to make a noticeable subject line."
Torres, of Newark, said it was difficult to get some of the students to speak about themselves more personally. His solution was to structure the questions specifically for each student and have them speak about their inspirations.
Marissa Luca, a graduating senior from Egg Harbor Township, who helped edit the section, said the students made the best of a tough situation.
"After all, journalism is all about talking to other people and communication, and COVID-19 has transformed how we communicate," Luca said.
Stockton advisors, Toby Rosenthal and Erin O'Hanlon, and Executive Editor of The Press of Atlantic City Buzz Keough, were pleased with the work the interns put into this project.
"The interns were able to mobilize and produce content on a deadline during an extremely challenging time," Rosenthal said. "This group of students showed tremendous strength and determination to collaborate and make us proud."
Keough said the interns were very instrumental in this year's Young Leaders project as the newsroom at The Press has been focused on covering the daily impact of the coronavirus.
"Their hard work helped ensure we were once again able to shine a spotlight on the achievements of high school seniors who represent our best and brightest," said Keough.
- Reported by Katelyn Emick
# # #
Contact:
Diane D'Amico
Director of News and Media Relations
Galloway, N.J. 08205
Diane.D'Amico@stockton.edu
609-652-4593
609-412-8069
stockton.edu/media