Students Raise Flag for Hispanic Heritage Month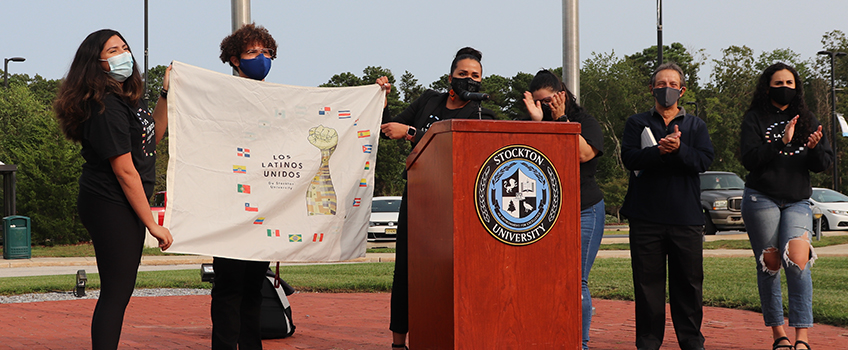 Galloway, N.J. – The crowd was a bit smaller, and masked, but the enthusiasm marking the beginning of Hispanic Heritage Month was contagious on Sept. 15 as members of the student group Los Latinos Unidos raised their flag in the Arts and Sciences building circle to kick off a month of activities.
Club president Kiara Velez-Padilla said that while this is not a typical semester, they wanted to celebrate the best they can.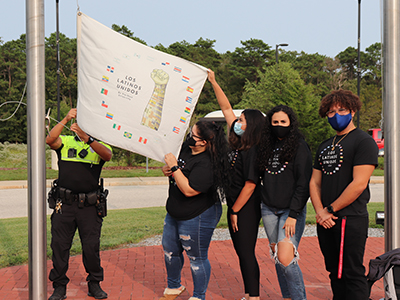 "The traditions are important to us," she said. "We want us to have a sense of community here and share our culture and heritage. We want to create a space where everyone feels comfortable."
She said Latinos are known for being passionate, dedicated and resilient, and their plans for the month, from Sept. 15-Oct. 15, demonstrate those traits.
"We celebrate 365 days a year, but this month is extra special," she said.
Associate Professor of Spanish Arnaldo Cordero Roman, president of the faculty and staff group Unidos, said the month recognizes all of the countries that gained independence. They are represented in the flag created by the group.
Jessica Grullon, interim associate director of Admission Services, who helps coordinate the month with the club, said there almost wasn't a flag to raise this year. The flag had become faded and torn. But, she said, Director of Student Development Jeff Wakeman sewed it over the weekend and colored in some of the faded flags so that it could fly with pride.
Officers from the club raised the flag. This year's officers also include Vice President Andrew Torres, Secretary Angela Portillo, Treasurer Idalis Santana, Greek Life advisor Lesley Camillo and EOF Liaison Lisbeth Espinal.
A gallery of photos is on flickr.
Below is a list of events already planned. Most are on Zoom. More events may be added. The club meets on zoom at 4:30 p.m. Tuesdays and can be reached at stocktonlatinosunidos@gmail.com or on Instagram at stockton_LLU.
Trivia Thursdays: (Sept. 17th, Sept. 24th, Oct. 1st, Oct. 8th) at 8 p.m.Trivia Thursday's will be a weekly series throughout Hispanic Heritage Month. This weekly game night will allow participants to answer trivia questions related to both Latino based culture and "mainstream" pop culture. Prizes will be awarded every night. (Prizes include: baskets, apparel and more)
Culture Chat: (Tuesdays at 4:30 p.m.)Culture Chat is an online safe space where Los Latinos Unidos will be joined by other multicultural organizations to talk about the similarities and differences within our cultures. This will be an opportunity to play games, share experiences and interact with one another. Our goal is to help unify our minority communities on campus and create a safe environment for all.
Sept. 22nd - African Student Organization
Sept. 29th - PASAS
Oct. 6 -Asian Student Alliance
Oct. 13 -UBSS
Virtual Girl's Night ft. TOGETher: Sept. 23 at 7:30 p.m.
This virtual girl's and spa night is meant to be a safe space for women of all cultures and heritages to bond and come together as a community.
Corn Maze and Hayride at R&J Farms: Saturday, Sept. 26
Join Los Latinos Unidos for a day of fall traditions at R and J Farm in Egg Harbor City . Come pick pumpkins, escape a corn maze and take fall pictures with us. Limited tickets available in the Campus Center Information Desk. Participants will have to provide their own transportation.
Celebrating Frida - Virtual Paint Night: Sept. 28 at 6 p.m.
Join us at our virtual paint night where we celebrate legendary artist Frida Kahlo through history, painting and music. This will be a grab and go event where participants can pick up their materials. (Pick Up Location: TBD)
Learn to Make Empanadas: September 30 at 3:30 p.m.
Join Los Latinos Unidos as we teach you how to make our favorite treat, empanadas, live on our Instagram stockton_LLU! Attendees will get a special (delicious) reward.
# # #
Contact:
Diane D'Amico
Director of News and Media Relations
Galloway, N.J. 08205
Diane.D'Amico@stockton.edu
609-652-4593
609-412-8069
stockton.edu/media