Ceremonies Bring Graduating Students Together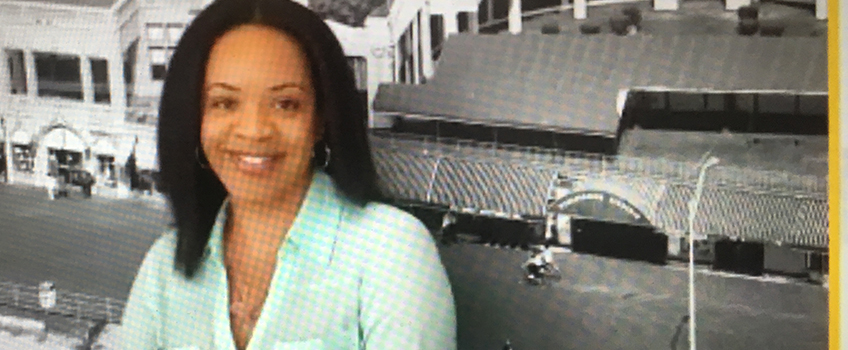 Galloway, N.J. – There are many traditions for graduating seniors at Stockton beyond formal Commencement. Faculty and staff organized a series of virtual events this year to make sure students did not miss out on these treasured experiences.
At the Rite of Passage ceremony, Professor of Africana Studies and Communication Studies Donnetrice Allison said the event originated with Distinguished Professor Patricia Reid-Merritt as a way to recognize a significant milestone in students' lives.
"It began as an effort to bring students back to their heritage where significant events were celebrated as a rite of passage," Allison said.
Rites of passage were shared across Zoom rather than across campus this year, but were developed and celebrated with just as much pride and enthusiasm and attended by hundreds of students, faculty and staff.
Rite of Passage Ceremony
The 2020 Rite of Passage eCeremony recognized all graduates who self-identify within communities of color.
"We are proud of you and all you have contributed to Stockton," Vice President for Student Affairs Chris Catching said in his welcome. "You will always have a place here on campus."
Speaker Victoria Johnson, who graduated with a Master's of Social Work, said their work is now more important than ever.
"This our time," she said. "Here we stand, victorious. Remember your purpose. Remember the people who were there for you. You persevered and you were resilient."
The event included graduating student testimonials and a slideshow of graduates' baby photos.
Organized by Darius Edwards and Donnetrice Allison, the event was sponsored by Residential Life, Unified Black Student Society and Los Latinos Unidos. The planning committee included Jessica Grullon, Marques Johnson, Nordia Johnson, Shedia Laguer, Ana Rodriguez, Pedro Santana and Dianne Stalling.
"For students of color, this is such an important moment, as many are first-generation students and have worked extremely hard for this accomplishment," Marques Johnson said. "The committee understands the importance of such an occasion, and really wanted to recognize our graduates, sending them off in the world to be seen, loved and prepared, even in the face of uncertainty."
View the ceremony at https://bit.ly/20ROPeCeremony.
Social Work Bachelor and Master Ceremony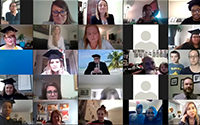 Stockton's Social Work programs hosted a Zoom event organized by Assistant Professors Loretta Mooney and Katie Brzozowski.
"I just want to say how impressed I am with how our students persevered throughout this pandemic," said Allison Sinanan, professor of Social Work and coordinator for the BSW program. "It's so nice to see many of you with caps and gowns on. I love that you got into the moment and the mood, ready to celebrate, looking at this from a different perspective. This is our new normal, and you're embracing it."
Stockton Assistant Director of Counseling Nathan Morell spoke, and there was a slideshow of photos and a presentation of graduate names.
Watch the program at https://drive.google.com/file/d/1hZpWHNwkqylhLwaULN3OC5jSmBXjH3qm/view.
Communications "Wrap Party"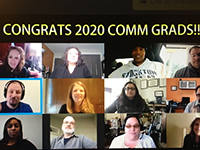 The Communications faculty concluded the semester with a Zoom Wrap Party that honored graduates and celebrated with games and "door prizes."
"This is not exactly how we envisioned it, but your professors worked hard," said Program Coordinator Christina Morus. The event included a "senior send-off video" created by the faculty.
Seventy-four students were recognized with Program Excellence honors. Hannah Urbanowycz was named Student of the Year. Other students recognized in specific disciplines were Clementine Byrne, Public Relations and Advertising; Niya Calloway and Emily Montgomery, Journalism and Media Studies; and Rawan Maarouf, Media Production.
Watch on: https://www.youtube.com/playlist?list=PLfopHcs1FNP04yizk1WrEprhLBNDGgywU
Gerontology/Psychology Sendoff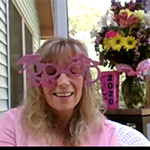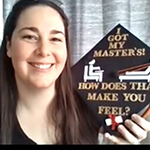 Christine Gayda, assistant professor of Psychology, usually reads the names of graduates as they walk onto the stage to receive their diplomas in Boardwalk Hall.
This year, she sat on her deck next to a vase full of flowers wearing fun grad glasses as she greeted students in her Spring 2020 Psychology and Gerontology courses on a Zoom event where program alumni shared their experiences and offered encouragement.
Former students Kate McGinley, MS, LPC '12, Jamie Martino, MA, LAC, IIC '13, Spencer Mullen '15 and Scott Hansen '19 have different experiences but what they share is that they embraced challenges, learned from roadblocks and adapted to change. They said path to success is not straightforward, but to keep moving forward.
"We've all taken non-linear paths to where we are now. You can't expect to be successful right away," said Mullen.
"When you get stuck, shift your perspective. Keep in touch with your professors because they have buckets of knowledge and experience," Hansen told the psychology and gerontology students.
Women's Center and LGBTQ Lavender Graduation
The Women's, Gender and Sexuality Center participated in a national online Lavender Graduation celebration hosted by Campus Pride. Women's Center Director Laurie Dutton, Assistant Director Rebecca Longo and Counseling Center Assistant Director Laura Show also made a short congratulatory video for Stockton's students.
"Be proud of what you have achieved," Longo told the graduates.
Shaw thanked students for sharing their struggles and their growth.
"Always remember you have a home a Stockton," Shaw said.
Dutton said she hopes to see students again at the in-person graduation planned for the fall.
"Stockton University will always welcome you, and we are deeply proud of you," Dutton said.
# # #
Contact:
Diane D'Amico
Director of News and Media Relations
Galloway, N.J. 08205
Diane.D'Amico@stockton.edu
609-652-4593
609-412-8069
stockton.edu/media