Freshmen 'Go Global' in Online Summer Class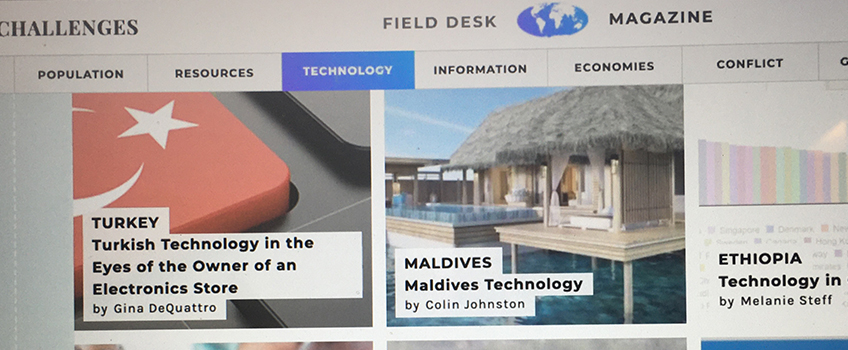 Galloway, N.J. – The COVID-19 virus may have kept people close to home this summer, but more than 100 incoming Stockton freshmen still traveled the world virtually in a free summer online course.
The online Go Global class, now in its seventh year, was spearheaded in 2014 by then Stockton Interim Provost (now Chief of Staff) Susan Davenport as a way to introduce incoming students to, global issues, their fellow freshmen, and the expectations of a college level class.
Designed to develop critical thinking skills, the four-credit class also expanded student use of technology, and encouraged time management skills.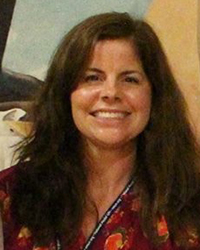 Associate Professor of Political Science Tina Zappile was the lead author of the curriculum for the course, a national initiative which grew from the American Association of State Colleges and Universities' Global Challenges initiative.
"The course teaches multiple skills and has multiple goals," Zappile said. "We want the students to learn about global issues, but we also want to prepare them for college and have them feel connected to Stockton when they get here."
Students are assigned a country, and also an individual in that country, who represents one of several demographics. That approach makes the assignments more personalized, and also shows how different issues affect different groups of citizens within a country.
"It is very interdisciplinary," Zappile said. "The students are looking at climate issues, natural resources, social and economic issues. The course teaches the complex problems we are all dealing with."
The students' papers are shown as articles in an online magazine, which others in the course and Zappile read and respond to. The course is also adaptable; this year Zappile added a section on the pandemic and the Black Lives Matter protests in the U.S.
"Another goal is to teach political and civic engagement," Zappile said. "We want our students to think critically, but also to look at their own values. We have students who come from all different social, ethnic and economic backgrounds. They also learn from others who disagree with them."
The six-week course is writing intensive. Students write nine articles, seven of them on global challenges.
This year's group was the largest ever, possibly due to the impact of the pandemic, which kept many students from other summer activities. Zappile checked in with them daily and said the larger the class, the more countries and issues they can address.
"This is intended to be taught to a large group," she said.
While students said having the class be free was a major incentive to enroll, they also said they learned a lot and were glad they enrolled, even if it was a lot of work.
In a survey, 86% of the respondents said the course made them feel like they belong at Stockton and 86% also said it made them think about ways they can expand their own global learning in the future. Almost 70% said it increased their interest in a study abroad opportunity and 81% said it improved their view of online courses.
Overall, in the survey, students said the course did expand their perspectives on many issues. A few students share their experience:
Madelynn Schina - Hometown: Somerdale; Major: Mathematics/Actuarial Science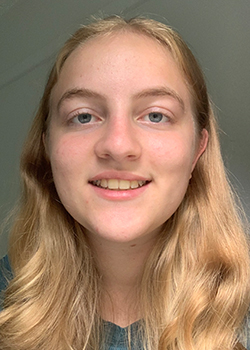 I registered for Go Global because I saw it as an opportunity to experience a college level course. I thought that in taking the course, I would be better prepared for the fall when I would be taking 4 classes at once. It was amazing that I was able to earn 4 college credits for free, but I really went into the class looking for the experience and new knowledge.
The course really taught me a lot about the different lives of people across the world. From policies on censorship to conditions of water sources, there are so many varying situations in which people live.
Certain parts of the course really highlighted my lack of global awareness not even just abroad but also within the United States. It motivated me to seek more information to become a better individual and it still motivates me to continue to do so today.
I would absolutely recommend the course to other students. It was a great experience. I learned so much about not only the world and individual countries, but also about myself and my actions.
Dr. Z truly made the course. She made sure that we had everything we needed to succeed in the course and more. She never stopped us from asking questions and pushed us to challenge ourselves. She was always an email away and truly made this class an unforgettable experience. Beyond the great learning experience, I would recommend the course just so that others could get the chance to work with Dr. Z.
Yasmin Mourad – Hometown: Galloway; Major: Environmental Science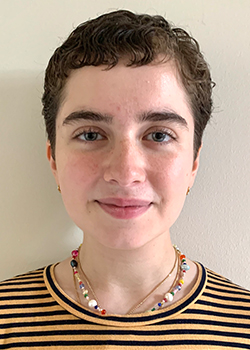 I initially noticed the bold and underlined "free four credit course" on the invitation sheet. This definitely sparked my interest as I saw this as a perfect opportunity to jumpstart my college career.
Upon reading the topic of the course, I was not sure to expect; however, the idea of exploring global trends and problems and then write about them in separate articles for a magazine, was something I had never seen nor done before, so I thought it would not hurt to try it out.
I was assigned a 25-year-old woman from Belgorod, Russia. The purpose of this was to incorporate a personal perspective for each global challenge explored. The articles (we wrote) took aspects from each lesson and asked you to elaborate on the challenge within the country you were assigned, to then relate it back to your villager.
This course allowed me to explore how global challenges affect the world around me and allowed me to escape this bubble I have created for myself within my own town, my own state, and especially my own country.
I was challenged to accept that I was actually not so knowledgeable of the world around me. I feel as if I have truly gone one large step toward becoming a true global citizen and have become completely aware and selfless when it comes to understanding multiple regions' cultures and their values.
A foundation of all these lessons within the challenges was to think critically and to not base judgement off of quick reactions and responses. An indirect benefit from this course was allowing you to properly learn time management. The course was done on the students' schedules. This was personally a lesson learned in how I process my time, as I really had to construct a strict schedule in order to properly finish the course on time and with my best effort.
I would most definitely recommend this class to others. Taking yourself out of the country you've known all your life, personally, has allowed me to create a very full and extensive perspective of the world around me.
Alexandra Tredy- Hometown: Brick; Major: Criminal Justice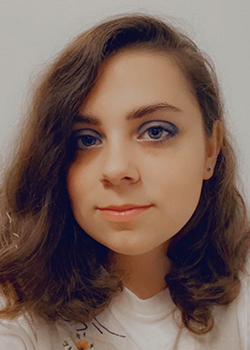 I registered for the Go Global class for a few reasons. The class was free and provided a major jump start on credits for college. It was extremely beneficial to take during the summer when work from other classes did not start yet. Additionally, I was curious about the world in its entirety and other countries' perspectives on issues since I have a lot of family that live outside of the United States.
My country was Tanzania. The article on citizenship was the most intricate piece, in my opinion, as the article compared three or more issues from the prior articles with another student's country and gave a thorough comparison/contrast on the issues around the world.
While taking this class, I gained a better understanding of countries around the world. I was also able to improve upon class discussions and other social skills via assignments that required commenting on another student's article
Classes in high school did not have as much information as this program. I am extremely grateful for the illumination of misconceptions as I now feel better equipped to be a globally competent citizen. It is vital for students, or people in general, to become aware of the errors and stereotypes in order to successfully comprehend global challenges. If we can successfully understand these issues, we can create a more efficient resolution.
I would absolutely recommend this class. The workload was not too heavy. The class was not difficult, but it did require some deep thinking and analysis, skills that every student should improve upon. It helps refine social skills, analysis, and time management, not to mention the professor is remarkably helpful and informative! Overall, the program is absolutely advantageous as well as fun and intriguing.
Heather McCarty – Hometown: Winslow Twp.; Major: Sociology and Anthropology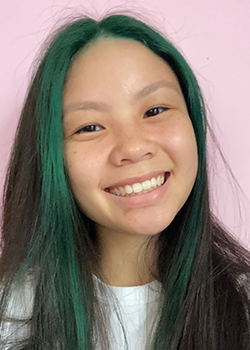 I decided to register because it was a free opportunity for me to get into the mindset of a college student. I looked at the syllabus and saw the many different topics that I'd be learning and was instantly engaged. Being a person who didn't watch the news regularly or know about world issues, I learned a lot about how the world works and the basis of globalization.
There was an article for each global theme that would be assigned every once/twice a week. It would be about my assigned country's (India) problems, solutions, and reflections regarding the corresponding theme. I also got to read and comment on my classmates' articles written from another country's perspective, and learn the differences between how foreign countries are run.
I gained a few extra credits so I could possibly graduate earlier, I obtained organization skills from writing in a planner, and I learned how to better formulate ideas verbally through the assigned Flipgrid videos. Especially during the COVID-19 pandemic, the class prepared me for the online fall semester navigating Blackboard and submitting work through different online softwares.
I'd recommend this class to students who are willing to commit to following prompt deadlines and learn more about the world around them. The work does get a little tedious at times, but if students have the time, effort and patience, they can easily knock the assignments out. It's a great class, and Professor Z is very helpful and flexible with deadlines when it comes to power outages during tropical storms.
Sarah Lopez – Hometown: Linwood; Major: Mathematics/Education concentration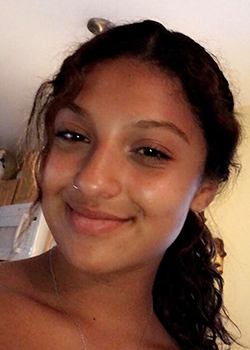 I registered for this class because of the free credits. I also wanted to keep my head in school mode so it wouldn't be such a shock going back to school especially as a freshman in college when everything else is very new and different.
At the beginning of the class Dr. Z gave us some demographics for a person that we needed to make come alive through our research and then our articles. I wrote my articles or writing projects as a first person account by that person.
I gained the experience of learning to use Blackboard, which I think was the most important skill I could have learned before my fall classes started. I also really learned to not procrastinate and am now getting all my assignments done before they are due so I don't stress too much about them.
I absolutely would recommend taking this class to others. I personally do not like politics and news, and that is what I thought this class was going to be. Then, once we started, it was a guided learning tool. I actually learned so much more about the world in this course than in my high school history classes.
# # #
Contact:
Diane D'Amico
Director of News and Media Relations
Galloway, N.J. 08205
Diane.D'Amico@stockton.edu
609-652-4593
609-412-8069
stockton.edu/media