'Giving Reimagined' Receives National Recognition
Galloway, N.J. - The Stockton University Foundation recently received a Circle of Excellence Silver Award from The Council for Advancement and Support of Education (CASE) for their entry, "Annual Giving Reimagined."
The Circle of Excellence Awards acknowledge superior accomplishments that have lasting impact, demonstrate the highest level of professionalism and deliver exceptional results.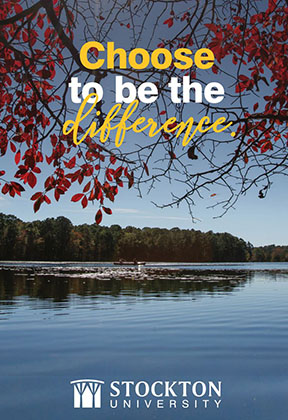 Stockton's earned accolade was in the category of "Fundraising: Fundraising Improvement," which focused on reimagined initiatives that improved the efficiency and/or the effectiveness of a fundraising office, initiative, activity or event. Judging was based on the following guidelines: planning and execution, strategy and methodology, ability to serve as a model for other institutions, innovation and creativity, effective use of budget and other resources; and ambitious goals and demonstrable results.
"While the primary goal to increase alumni and non-alumni giving was realized in both dollars raised and gift count, equally important were our goals to create unity and pride across the generations, steward our donors, engage current students, and create campaigns that were creative, meaningful and memorable," said Sue Werner, associate director of Development, who submitted the entry to CASE.
The Foundation's research on giving trends and behaviors amplified the growth and strategic focus of putting students first and highlighted the many unique aspects of Stockton - from alumni, to campus locations to donors and more.
Ospreys Give 2019, the University's annual day of giving, was a perfect example of the implementation of new techniques and methods to engage students, alumni, staff and donors.
"Sue's entry described the growth and strategic focus we have brought to annual giving at Stockton," said Dan Nugent, chief development officer & executive director, University Foundation. "I am very happy to recognize all who contributed to our growth in the program and I commend Sue and our team for their hard work."
The Stockton Foundation was founded in 1972 to support the college and its students. Through fundraising and generous gifts, the Foundation today has assets of more than $40 million. To date, the Foundation has awarded more than $700,000 in scholarship support for the coming academic year.
-Reported by Mandee McCullough