DPT Students (Finally) Get Their White Coats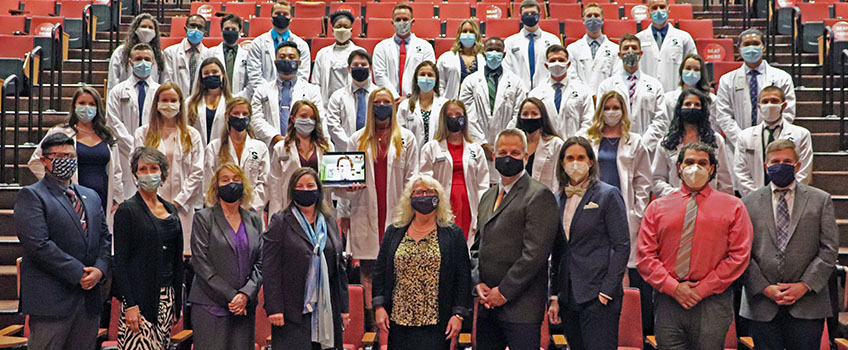 Galloway, N.J. – Students in the Class of 2021 Doctor of Physical Therapy program made the trip to Alton Auditorium on Nov. 5 just for the opportunity to put on a new coat.
But these were no ordinary coats; they were a symbolic part of the annual Commitment to the Profession Ceremony, where students receive their white coats as a symbol of their transition into their final year.
Master of Ceremonies and Associate Professor of Physical Therapy Thomas Nolan noted that traditionally the students would have received the coats at a ceremony in April, but it was delayed by the COVID-19 pandemic.
"The white coat is a symbol of your transition from the classroom to the clinic," said Margaret "Peg" Slusser, dean of the School of Health Sciences. "You have earned it. But to make it fit and wear it comfortably you will have to demonstrate professional accountability."
Her wish for them, she said, is that they are always comfortable in their coats, and that they "make a difference in the lives of those you have the privilege to touch."
Interim Provost and Vice President for Academic Affairs Michelle McDonald said two members of her family are currently in physical therapy and hope to resume activities that are currently limited.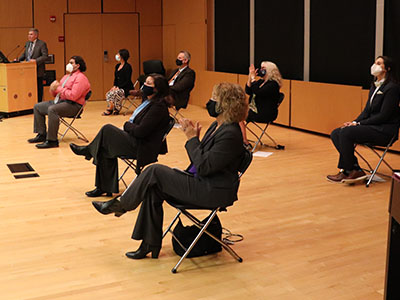 "You give people the ability to choose how they can live," McDonald said. "More than improving mobility, it's about improving quality of life."
Brian Mason, president of the American Physical Therapy Association of New Jersey, told the group via zoom that it is a great honor to wear the white coat, but the coat alone does not make them a professional. It is their actions as physical therapists that will identify them as true professionals, he said, citing members who started an aquatic program for wounded soldiers and have worked tirelessly to help COVID-19 patients recover.
The students all wore masks, and while typically faculty would assist them in donning their coats, they carried them into the auditorium themselves, then walked to the stage and put them on as their names were called.
Student Natalie Zanetti led them in their oath to the profession, while they sat socially distanced in the auditorium. They then gathered with their faculty for a quick group photo, some noting they had not seen each other in person since March. One student, Jake Grootenboer, could not make the ceremony in person but Zoomed in, and was cheered as classmates watched him put on his coat at home.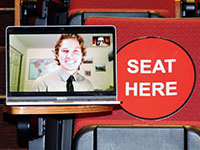 The 31 members of the Class of 2021 are: Justin Baglivo, Anthony Baldachino, Gabriele Bandelli, Peter Bennett, Caitlyn Citta, Christine Daly, Anthony DeRosa, Carly Egrie, Amanda El-khouri, Vanessa Francesco, Jake Grootenboer, Leo Horowitz, Gina Irizarry, Justin Maksimow, Chelsea Miller, Mallory Murphy, Arth Patel, Kevin Pineda, Mahogany Reevey, Brian Reid, Jacob Rickett, Lindsay Roof, Franklin Roque, Jamie Roskos, John Stahl, Dorothy Stump, Cassidy Troy, Ryan Worley, Juliana Wynkoop, Natalie Zanetti, and Chris Zeck.
View a gallery of photos from the ceremony on flickr.
# # #
Contact:
Diane D'Amico
Director of News and Media Relations
Galloway, N.J. 08205
Diane.D'Amico@stockton.edu
609-652-4593
609-412-8069
stockton.edu/media