Club Connect: Meet the ... Chess Club
Galloway, N.J. – Chess Club is back! Do you enjoy playing chess or want to learn? If so, then this is the club to join!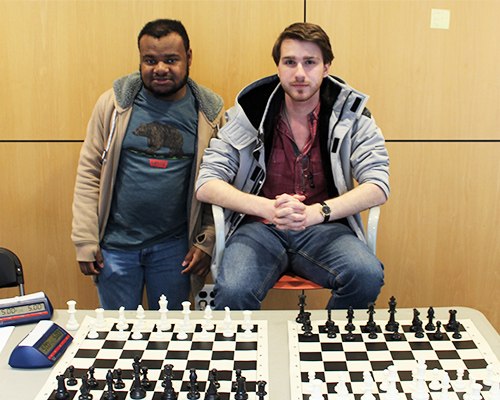 The Stockton University Chess Club is in its third reboot. In fall of 2018 Nicholas Carlson, the president, started the Chess Club with Associate Professor of Math Bradley Forrest. Nicholas first got into chess when he learned to start playing at the young age of six. He continued to play his dad until he finally beat him, and it took about seven tries to do it.
The Chess Club meets Mondays in front of the library from 3:30-4:30 p.m. and on Thursdays in the C/D Atrium from 4:30-5:30 p.m. The club is open to anyone and don't worry about not having experience because they will teach you how to play.
Each semester the Chess Club holds one tournament. The club would like to start doing more tournaments specifically for middle and high school students on Fridays starting in April at Stockton Atlantic City after school. Nicholas tries to play with the Toms River Chess Club as much as possible.
Members like Nicholas and Jamie Conarty encourage anyone to come out and participate in the new reboot of the Stockton University Chess Club!
Anyone interested in joining the Chess Club can follow @OspreyChess on Twitter for all meeting updates.
(Reported by Katelyn Emick)