Alumni Share Job Success Stories at Career Fair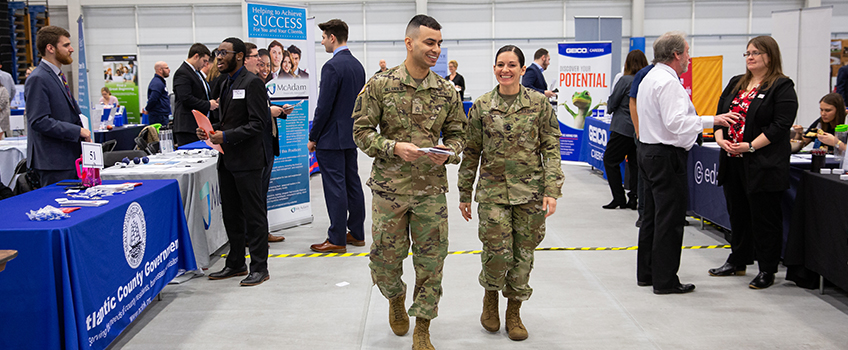 Galloway, N.J. – Representatives from more than 120 businesses came to Stockton University's Career and Internship Fair on March. 5, eager to give students jobs and internships.
Participating employers ranged from health care and law enforcement to casinos and entertainment.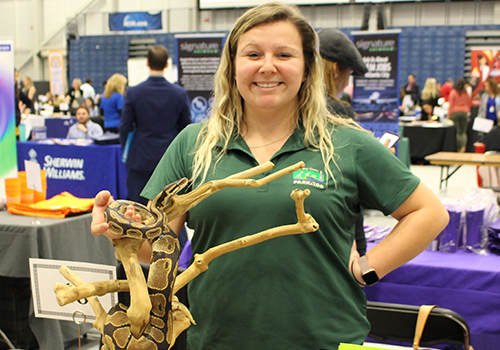 A new addition this year was the Cape May County Park and Zoo. Heather Sampey of West Cape May, accompanied by her ball python snake named Spalding, studied Environmental Science at Stockton and worked as zoo camp counselor. She also worked as a research tech on the controlled burns team at Stockton and after receiving an internship with the zoo got a job there as an educator.
Sampey's advice to graduates seeking jobs is: "Keep your foot in the door and just keep coming back. Any type of experience is awesome."
The Career Fair featured many recruiters who were also Stockton alumni.
Jenny Robertson studied psychology and now works for Beautiful Minds, a behavioral and mental health agency. The company is looking for bachelor and master level interns.
"This was something I always wanted to do, a way to give back," Robertson said.
Alumni said their professors and mentors have helped create stepping stones to the jobs they have today.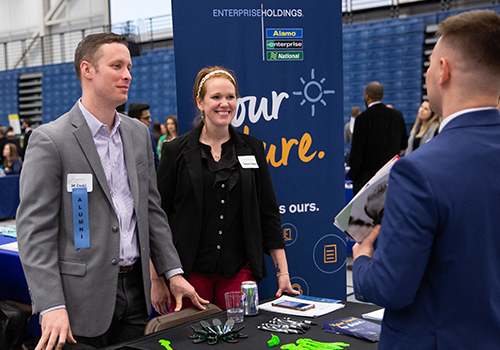 Amy Holmes from Vineland Health Services said Professor of Public Health, Elizabeth Calamidas, encouraged her to switch to Public Health after she participated in a student showcase.
Holmes said the course work in her major helped her get certified and get a job. She said her mentors at Stockton were important because they "sparked the fire and I didn't even know it."
Tara McGowan and Heather Berchtold, both Hospitality and Tourism alumni, encouraged students to get experience even before they graduate.
"Get any experience you can, work everywhere," McGowan said.
"Stay connected and get hands on experience," Berchtold added.
McGowan and Berchtold work for Destination Philly/AC and heard about the jobs through Dayna DeFiore, Assistant Director of Career Education and Development, and The Stockton Hospitality and Tourism Management Society.
Alumni agreed that using their connections at Stockton and being involved are some of the best resources for potential jobs and internships. The Career Fair, the said, is a great way to connect students and employers.
Students are aslo encouraged to visit the Career Education and Development Office in the Campus Center, and sign up for Handshake, an online platform that connects students to job and internship opportunities.
Reported by Katelyn Emick
View more photos on Flickr.
# # #
Contact:
Diane D'Amico
Director of News and Media Relations
Galloway, N.J. 08205
Diane.D'Amico@stockton.edu
609-652-4593
609-412-8069
stockton.edu/media