Business School Looks for A.C. Opportunities
Galloway, N.J. _ Stockton University President Harvey Kesselman has established a Presidential Task Force to explore ways to expand the presence of its School of Business in Atlantic City, provide more internship and employment opportunities for students and develop a series of signature events and programs.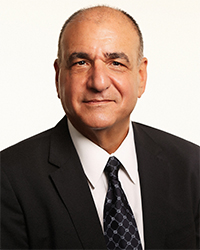 The task force will be chaired by Stockton's Board of Trustees chair Raymond Ciccone, a 1979 graduate of Stockton's business program. Now a partner in Ciccone, Kosef & Company in Ocean County, Ciccone is an expert in the field of accounting for the hospitality industry.
"Stockton gave me the skills I needed to succeed," Ciccone said. "The task force will create new opportunities for students entering the workforce today and help us prepare them for the jobs of tomorrow."
Public members of the 20-person task force include Lori Herndon, President and CEO of AtlantiCare and a Stockton alumna; Elizabeth Terenick, Sr. Project Manager for AC Devco, Michael Chait, president of the Greater Atlantic City Chamber, former Atlantic County freeholder Frank Formica, and attorney Michael L. Salad of the Cooper Levenson law firm. Stockton trustee Andy Dolce, and faculty and staff from Stockton's School of Business, Development, University Relations and Marketing, and Alumni Relations are also involved.

Alphonso Ogbuehi, dean of the School of Business at Stockton, said a goal is also to raise the profile of the School of Business through its Hospitality, Tourism and Event Management Studies undergraduate programs, Masters in Business Administration, and the work of affiliated centers such as the Lloyd D. Levenson Institute of Gaming, Hospitality and Tourism (LIGHT) and the Small Business Development Center.
"Through partnerships with groups like the Greater Atlantic City Chamber we hope to expose our students to the many different opportunities available to them and provide mentorships and internships in the community," Ogbuehi said. "We also want the public to be more aware of the services we offer through LIGHT and the Small Business Development Center."
# # #
Contact:
Diane D'Amico
Director of News and Media Relations
Galloway, N.J. 08205
Diane.D'Amico@stockton.edu
609-652-4593
609-412-8069
stockton.edu/media