Trustees Room Named for Michael Jacobson
Galloway, N.J. _ he Stockton University Board of Trustees has named the board's meeting room in the Campus Center in memory of longtime trustee Michael Jacobson.
Jacobson, a Margate resident who passed away in October, was the university's longest-serving trustee. He was appointed in 1985 and during his 35-year tenure served as board chair twice, from 1994-96 and 2001-2004.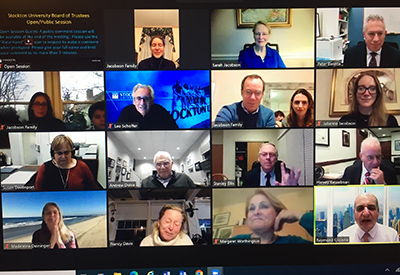 The naming was recommended by the University Naming Committee, the President and the Executive Committee of the Board of Trustees, and was approved by the full board at its Dec. 9 meeting.
Jacobson's widow, Sarah, and other family members attended the meeting via Zoom and thanked the board for the recognition, saying it was a fitting tribute.
"Anyone who knows Michael knows how much he loved Stockton," Sarah Jacobson said. She recalled going into labor in 1986 and having to call the college to ask then president Vera King Farris to send Michael home from a meeting.
His son, Dan, said his father worked long hours as an attorney, but never thought of giving up his role at Stockton because he enjoyed it so much.
"Those hours were pure pleasure for him," he said.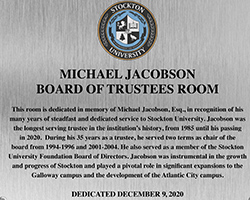 A plaque for the "Michael Jacobson Board of Trustees Room" will be installed in the room. Jacobson was also posthumously granted the status of Trustee Emeritus.
"The room will forever now be the Michael Jacobson Board of Trustees room," Board chair Raymond Ciccone said.
The board resolution cites his support for the new Atlantic City campus, as well as expansion in Galloway, including Housing V, the Campus Center and the Unified Science Center.
"I could tell you 35 years of stories," said President Harvey Kesselman, who thanked the family for allowing him to be such an integral part of Stockton for so long. "He was a man of tremendous integrity. He understood how to be a trustee."
Board members shared memories of working and socializing with Jacobson.
When he spoke, we all listened" said Ciccone. "All of us looked up to him. He will be forever in our hearts."
Trustee Leo Schoffer, a longtime friend and colleague said not matter what hat he was wearing, Jacobson was always a professional and always listened to what others had to say.
"We was the weathervane for me here at Stockton," Schoffer said. "He always led us in the right direction. It is so appropriate to name the room after him."
Trusteed Andy Dolce recalled what a great storyteller Jacobson was, but also what a professional.
"We could just count on him for so any things," Dolce said.
Trustee Meg Worthington recalled that Jacobson was on the board with her father, Chuck Worthington, and she remember hearing stories about the two of them and trustee Gerald Weinstein.
"Now, 16 years later, I was on the board with him," she said. "We will miss him. He was a great asset to the board."
Trustee Madeleine Deininger said Jacobson "educated me, humored me and helped me," during her time as chair. She also recalled learning what a "motorhead" he was when he offered to drive her home from a meeting one night and took the long way there so he could show off his car."
"I'll think of him at every meeting," she said.
Nancy Davis said he made her transition to the board easy.
"He was fun to talk to and he made me feel so comfortable," she said.
Stan Ellis remembered being totally intimidated after his first meeting, and having Jacobson approach him in the parking lot after the meeting to reassure him he would be fine.
"He said 'you'll figure it out' and I did, with his help and his thoughtfulness," Ellis said.
# # #
Contact:
Diane D'Amico
Director of News and Media Relations
Galloway, N.J. 08205
Diane.D'Amico@stockton.edu
609-652-4593
609-412-8069