Offshore Wind Company to Open ECO Center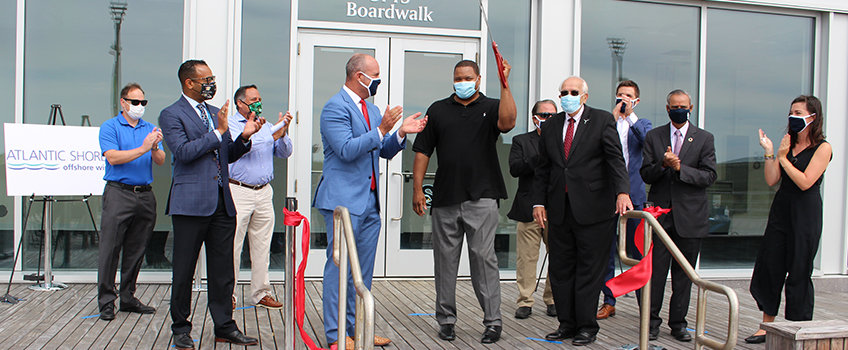 Atlantic City, N.J. – Atlantic Shores Offshore Wind LLC held a ribbon-cutting for its new Atlantic City Educational and Community Outreach Center on Monday on the Boardwalk in front of the Stockton University Residential Complex retail site where the new center will be located.
"This is a very special location," said Chris Hart, Atlantic Shores Managing Director and President. "The Atlantic City Boardwalk has national prominence."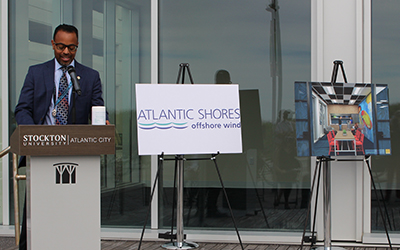 Atlantic Shores will dedicate the space as a new Educational and Community Outreach Center, serving as its primary location to host informational events for the local community around its upcoming offshore wind development plans. The site is currently under renovation and the official public opening will be announced following COVID-19 guidelines.
"We want to work together to make sure that all interested parties can have answers to their questions," Hart said.
Stockton Atlantic City CEO Brian Jackson said the new center will provide opportunities for faculty and students, as well as stimulate the economy and attract new residents.
"We look forward to a rewarding partnership," Jackson said.
The ECO Center features two conference rooms that can be used to host community meetings, and an additional open concept space for larger events and public presentations. The ECO Center will function primarily as a dynamic public exhibition space and multi-purpose community room to host local stakeholders and communicate Atlantic Shores' priorities and goals through exhibits, photos and interactive models.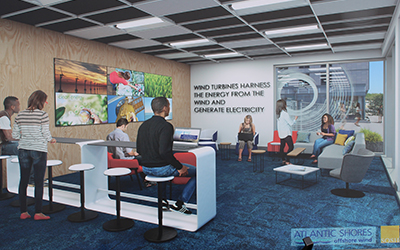 Jessica Dealy, Atlantic Shores External Affairs Lead, said groups within the city are contributing to the site. The Atlantic City Arts Foundation is doing a mural for the new center and Mud Girls Studio is making tiles.
Atlantic City mayor and Stockton alumnus Marty Small said he is excited about the potential opportunities for the company in Atlantic City.
"This can take Atlantic City to the next level and provide new industry," he said, siting Stockton and South Jersey Gas as two entities that have already brought new people to the city.
"This is an opportunity to create sustainable energy and sustain the Atlantic City economy," he said.
Atlantic Shores Offshore Wind LLC, based in Brooklyn, N.Y., is leasing 1,940 square feet of commercial space located on the Boardwalk and Roosevelt Avenues in the Stockton Atlantic City Residential Complex The 10-year lease with Stockton was effective July 15, with an option for two five-year extensions.
This summer, Atlantic Shores completed its geophysical and geotechnical ocean surveying, including the mapping of potential export cable routes that would bring its generated electricity on land. The developer is currently exploring wind conditions within its lease area and will conduct additional environmental studies this summer and fall.
Other speakers at the event included Atlantic County freeholder Frank Formica, N.J. Board of Public Utilities President Joseph Fiordaliso, BPU Commissioner Upendra Chivukula, and Joris Veldhoven, Atlantic Shores Commercial Director.
# # #
Contact:
Diane D'Amico
Director of News and Media Relations
Galloway, N.J. 08205
Diane.D'Amico@stockton.edu
609-652-4593
609-412-8069
stockton.edu/media