'A' is for Art Students Who Helped Design Alphabet Book
Galloway, N.J. - When artist Stephanie Segal Miller of Atlantic City decided to create a children's book she reached out to Stockton Professor of Art in Visual Communications Hannah Ueno for some assistance in designing the layout based on her paintings of animals paired with lesser-known facts.
Ueno assigned Alissa Petrella of Tuckahoe, a student in the Visual Arts Program to intern with the artist. That internship turned into a friendship.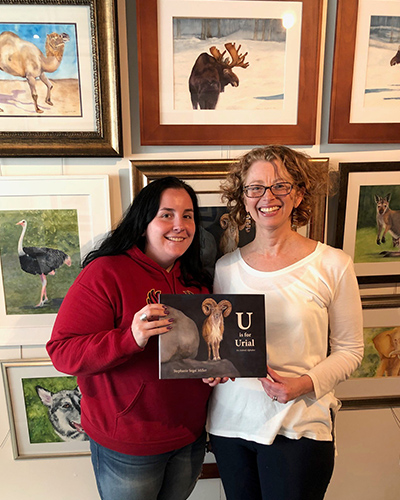 "This was my first time really working with someone who was like a client," Petrella said.
The two spent months working on layout designs, picking fonts and font sizes for the book "U is for Urial, An Animal Alphabet."
"Stephanie is very meticulous, knew what she wanted, and was not afraid to critique," said Petrella, who graduated in May.
Miller said she needed someone who understood the software used to create the book, and Petrella was the perfect person to help translate her ideas onto paper.
Miller also worked with another Visual Arts student Yahaira Ruiz for the second graphic design phase of the book, including the cover, and later hired the two students to help after their internships ended.
"I encouraged them to share their opinions," Miller said. "I knew what I wanted, but we also experimented a lot."
Ruiz said the experience taught her the importance of trying different variations and working on something until it is perfect.
"Throughout this experience, I've valued the ambition that Stephanie had to complete and publish her book," Ruiz said. "As I taught Stephanie a little about designing, she taught me a lot about editing text, grammar, book lingo , and animals. I am utterly happy that the book is completed and that Stephanie is happy with the outcome."

Ueno said students in the Visual Arts program are provided the opportunity to work in the community through a course designed by Professor of Art Michael McGarvey titled Design for Community Partners.
During the Fall 2019 semester students in the course worked on a promotional coloring book on Atlantic City for RE/MAX, and websites for the Hammonton Health Coalition and Atlantic City Art Commission.
Petrella also participated in the Design for Community Partners class, in which she designed a logo for Tuckahoe Brewery for a beer they created for the Ladies Pro Golf Association tournament in Galloway in 2018.
Ueno said they are always looking for new community groups to work with on design/illustration projects that serve the South Jersey region. Erin O'Hanlon in Stockton's Office of Service Learning has assisted in finding appropriate projects.
"The course provides our junior-senior level Graphic Design, Illustration students a way to apply their skill, and work with the real 'clients' through various design projects," Ueno said. "In a sense, this course serves like a 'design agency drill' where faculty's role simulates that of Creative Director / Art Director."
Petrella is now working as a digital photography teacher at Atlantic County Institute of Technology, where she is putting her internship experience into practice.
"My students are creating their own book using the same software I used with Stephanie," Petrella said. "I built a professional relationship and a friendship with Stephanie and I'm really proud of her for completing the book."
Miller has gallery space in the Noyes Arts Garage of Stockton University in Atlantic City, where the original watercolors of the animals in the book are on display. The 54-page book is available for $24.95 at the Noyes Arts Garage, 2200 Fairmount Ave or visit uisforurial.com.
Contact:
Diane D'Amico
Director of News and Media Relations
Galloway, N.J. 08205
Diane.D'Amico@stockton.edu
609-652-4593
609-412-8069
stockton.edu/media