'The Argo' Goes Digital for Spring
Galloway, N.J. - Since its inception in 1971, the same year Stockton opened, the university's independent student newspaper, The Argo, has provided a voice for the student body.
When the coronavirus pandemic moved the rest of the spring semester online, Editor-in-Chief Alexa Taylor and Assistant Editor Laurie Melchionne knew they were facing the challenge of keeping that voice heard even when students were spread all over the state and beyond.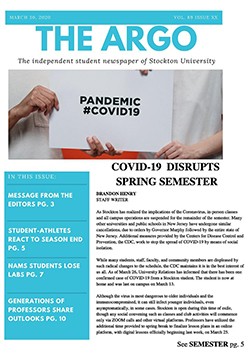 This week they produced their first entirely digital edition, dedicated to covering how the coronavirus has affected Stockton. They plan to keep publishing online until the end of the semester.
"We were pretty sure we would keep going, it was just a question of how," said Taylor.
Lacking their equipment, they researched new software, recruited their staff, and got to work at home.
"It definitely took more time because there were learning curves," Taylor said. "But we had the motivation. Laurie and I were in constant communication and we did get frustrated with some of the technical problems. But if one of us needed a break, the other one would fill in."
John Froonjian, a former journalist and president of The Argo board, said he is impressed with the dedication and effort of the student journalists, business manager Samantha Hutnick, and advisor Kim McCabe of Student Affairs who supported their efforts.
"I couldn't be prouder of the staff," said Froonjian, who is executive director of the William J. Hughes Center for Public Policy at Stockton. "This is true public service journalism."
The paper is looking for more content and wants to keep the campus community connected. Is a club still meeting virtually or doing any projects? Let them know how it's going. Share thoughts on online learning, or what you miss about being on campus. For those who may be working, share what it's like to juggle your job with online classes.
"We're hoping that maybe people will get so bored just being home that they'll be motivated to write," Taylor said.
The current issue is at stocktonargo.com. The Argo will also keep posting on its StocktonArgo Instagram account and The Argo Facebook page.
Questions or story submissions for future publications can be emailed to stocktonargo@gmail.com.
# # #
Contact:
Diane D'Amico
Director of News and Media Relations
Galloway, N.J. 08205
Diane.D'Amico@stockton.edu
609-652-4593
609-412-8069
stockton.edu/media