Offshore Wind Co. Leases A.C. Campus Site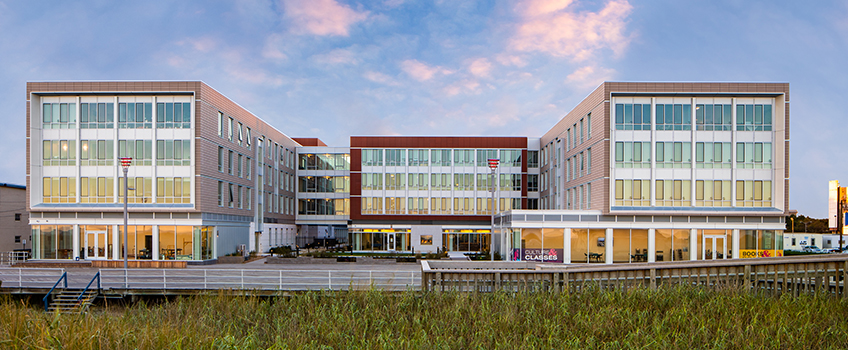 Galloway, N.J. - Stockton University has entered in a sublease agreement with Atlantic Shores Offshore Wind LLC of Brooklyn, N.Y., to lease 1,940 square feet of commercial space located on the Boardwalk and Roosevelt Avenues in the Stockton Atlantic City Residential Complex.
Atlantic Shores Offshore Wind will dedicate the space as a new Educational and Community Outreach Center, serving as its primary location to host informational events for the local community around its upcoming offshore development plans.
"Atlantic Shores holds one of the largest offshore wind Lease Areas with the ability to power nearly a million New Jersey homes with clean, renewable wind energy," said Chris Hart, Managing Director of Atlantic Shores Offshore Wind. "As we progress development of our first wind project, we know it's important for the Atlantic City community to have access to us right where they live. We look forward to meeting and listening to residents, advocates and local organizations at this space and using it as a venue to offer educational lectures and labs."
The 10-year lease is effective July 15, with an option for two five-year extensions.
Stockton Vice President for Facilities and Operations Donald Hudson said agreement represents an ideal partnership opportunity for Stockton.
"We are delighted to welcome Atlantic Shores Offshore Wind to Stockton University," Hudson said. "They are a perfect addition to the University District, represent another step in diversifying the economy of Atlantic City and will provide opportunities for our students to intern in the field of renewable energy and offshore wind on our campus."
The site has its own exterior entrance and will not be directly accessible to the Residential Complex.
# # #
Contact:
Diane D'Amico
Director of News and Media Relations
Galloway, N.J. 08205
Diane.D'Amico@stockton.edu
609-652-4593
609-412-8069
stockton.edu/media