Students Spend Day Making a Difference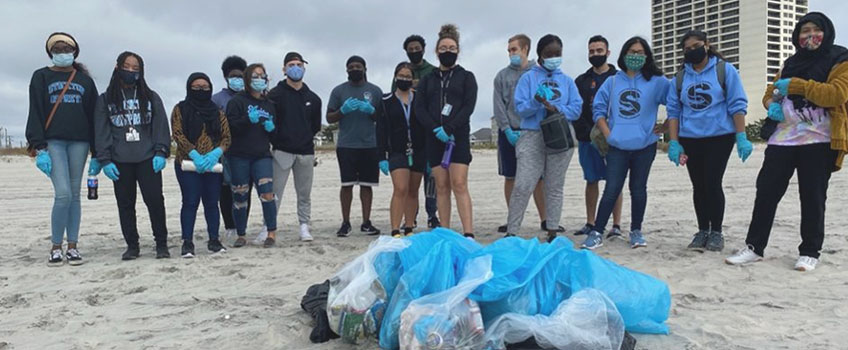 Galloway, N.J. _ More than 100 Stockton students grabbed their masks and spread across Atlantic County on Saturday, Oct. 24 to participate in 10 projects for Make a Difference Day.
Paige Richards, the AmeriCorps Changebuilder coordinator at Stockton, who organized the event, said it was a major accomplishment to adjust the day's events for COVID-19 pandemic guidelines, but in some ways, the pandemic made the projects all that more meaningful.
"This was a way for students to get together in person and be out in the community," Richards said. "We were lucky that we got good weather since so many of the activities were outdoors."
The annual Make a Difference Day project is coordinated by the Stockton Center for Community Engagement and Service-Learning.
Projects were available at both the Atlantic City and Galloway campuses, as well as off-campus sites.
Stockton's Environmental Club hosted a beach cleanup near the Atlantic City campus, and students worked with the Eastern Service Workers Association on a clothing drive at on the Kramer veranda of the John F. Scarpa Academic Center. Circle K hosted a project in the Fannie Lou Hamer Room inside.
At the Galloway campus, the Stockton Honors Program hosted petition writing through Zoom and students helped clean up the Stockton Community Garden while alumnus David Lockwood, who helps run the garden, shared its mission and goals.
"There are students who came who didn't know about the garden, so they were learning as they worked," Richards said.
Some students headed off campus for projects at the Edwin B. Forsythe National Wildlife Refuge, South Jersey Horse Rescue and the Atlantic County Utilities Authority.
Richards said students enjoyed being outdoors, and the event was also an opportunity to meet new people, which has been more challenging with pandemic restrictions.
"I got a call from one student who said after they were done, the group went to lunch together and how she made new friendships," Richard said. "It was stories like that, that really made the day."
Students interested in community service projects can learn more at the Center for Community Engagement and Service-Learning website.
# # #
Contact:
Diane D'Amico
Director of News and Media Relations
Galloway, N.J. 08205
Diane.D'Amico@stockton.edu
609-652-4593
609-412-8069
stockton.edu/media