Partnership Helps 10 Teachers Earn Masters in Education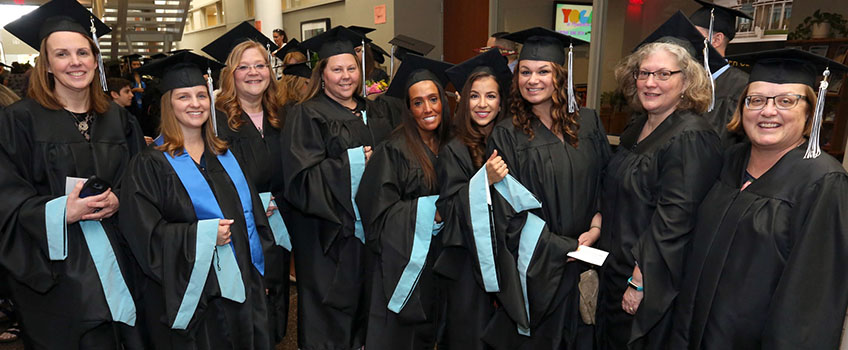 Galloway, N.J.- It took six years, but 10 teachers from Cape May and Cumberland counties received their Master in Education degrees at Stockton University's Graduate School Commencement May 8 through a partnership with the N.J. Department of Education and sponsorship by a Stockton donor.
The road to their degree began with a New Jersey Department of Education Mathematics and Science Partnership grant to train teachers through Stockton's Southern Regional Institute and Educational Technology Training Center (SRI&ETTC). The three-year grant covered training in math and science teaching methods for 30 teachers in Cape May and Cumberland counties, who met at Stockton's Sam Azeez Museum of Woodbine Heritage in Woodbine.
Teachers participating in the grant each received nearly 240 hours of professional development throughout the three years of the grant. Stockton developed the training so that the teachers could also earn credits toward their master's degree. When the grant ended, these teachers were only half-way through the coursework to earn a full master's degree when an anonymous donor stepped forward to subsidize the cost of the remaining courses for 10 of the teachers, who walked together at Commencement.
Graduates said it was a long six years, that included some of them having babies, but they are grateful for the opportunity.
"We really became like a family," said Rochelle Yunk, who teaches in Commercial Township. "And it really has changed how I teach. There is more hands-on learning now, with the students doing more themselves."
Patty Weeks, executive director of the SRI&ETTC, said Stockton faculty were very supportive in making the trip to Woodbine so that the classes could be more convenient for the participating teachers.
The participating teachers who earned their masters degrees are: Lynsey Venturini from the Middle Township School District; Maria Santiago from the Wildwood School District; Kelley Becker, Jennifer Burgess and Kelly Vazquez from the Fairfield Township School District; Rochelle Yunk and Michelle Clark from the Commercial Township School District; Jean Sharp from the Hopewell Township School District; and Susan Tramontana and Sandra Layton from the Greenwich/Stow Creek School District.
# # #
Contact:
Diane D'Amico
Director of News and Media Relations
Stockton University
Galloway, N.J. 08205
Diane.DAmico@stockton.edu
609-652-4593
609-412-8069
stockton.edu/media