Stockton Women's Leadership Council Debuts Speaker Series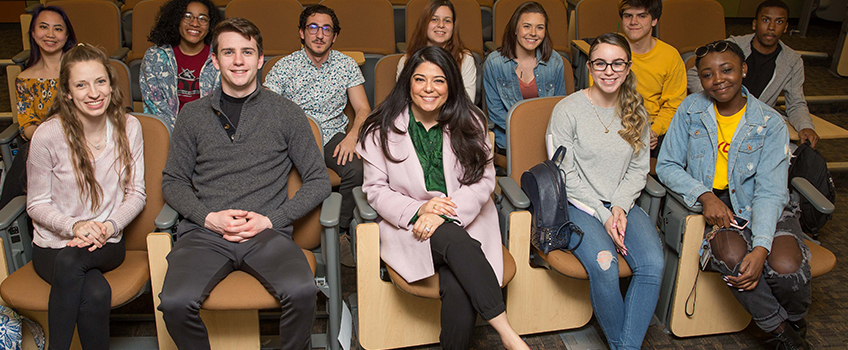 Atlantic City, N.J. - The Stockton Women's Leadership Council (SWLC) kicked off its Distinguished Women. Distinctive Voices. series April 4 with Ferial Govashiri, former personal aide to President Barack Obama, as the inaugural speaker. The event brought more than 115 members of the community, as well as Stockton faculty, staff, alumni, and students, to the Fannie Lou Hamer Room at the Stockton University Atlantic City Academic Center.
Cristina Stummer, partner at Saul Ewing Arnstein & Lehr and chair of the SWLC, introduced the new speaker series, which offers a platform for female leaders to share their experiences to inspire the next generation of female leaders. Stockton President Dr. Harvey Kesselman welcomed guests and encouraged support for the council.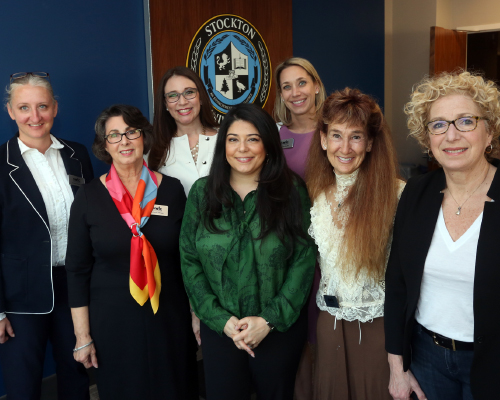 "Don't just stand for the success of other women, insist on it," Kesselman said. "And with this inaugural event, the Stockton Women's Leadership Council is doing just that; providing leadership, enrichment and development opportunities for young women not only to dream of success, but to design success."
Govashiri reflected on how her identity as a first-generation American and her family's experience as immigrants had a tremendous impact on her professional trajectory. She offered her perspective on how young women pursuing careers can thrive in the face of adversity.
"You can do anything you put your mind to; but you have to be ready to work hard, stand by your name, and not be afraid of failure." Govashiri said during the Q&A session moderated by Whitney Ullman, entertainment reporter and Stockton alumna. "Instead, embrace failure and learn from your mistakes."
Earlier in the day, Govashiri discussed her experiences in the White House and the private sector with students and faculty on the Galloway campus. Stockton senior Matthew Assad moderated the conversation.
Govashiri said one of the most important things she learned from President Obama is to seek out different points of view, even if you ultimately have the right answer. "Listen to everyone's perspective before making a decision," she said.
Govashiri also highlighted the benefits of mentorship, networking and other tips for succeeding in the workforce.
"Your name, your reputation, is all you have. Make sure if it has your name on it, it carries the weight of your brand," she said.
The event was sponsored by Dr. Johanna Johnson, founding member of the SWLC and chair of the Stockton University Foundation Board of Directors; Gayle Gross, founding member of the SWLC and member of the Stockton University Foundation Board of Directors; Pepsi; FantaSea Resorts; and Steve & Cookie's By the Bay.
About the Stockton Women's Leadership Council
The Stockton Women's Leadership Council (SWLC) – a Stockton University Foundation initiative – is dedicated to the empowerment of women and seeks to promote networking among women and the community. The SWLC offers a platform for professionals to build relationships, discuss issues related to women, engage in mentorship opportunities, and explore ways that relevant program events and leadership development opportunities can be supported by enhanced philanthropy. Through the Council's initiatives, faculty, staff, alumnae, friends and students will create a tradition of female leadership that will have a sustainable impact at Stockton University and across our region.
Other founding members of the SWLC include: Cristina Stummer, chair of the SWLC; Donna Albano, Donna Buzby, Alexa D'Amato Barrera, Susan Davenport, Pamela Fields, Andrea Giannini, Lori Herndon, Lynne Kesselman, Jessica Kowal, Rita Mack, and Roxanne Passarella.
For more information on the SWLC contact Alicia McMackin '03 at (609) 652-4861 or Alicia.McMackin@stockton.edu.
- Reported by Alexandra Sandberg
# # #
Contact:
Diane D'Amico
Director of News and Media Relations
Stockton University
Galloway, N.J. 08205
Diane.DAmico@stockton.edu
609-652-4593
609-412-8069
stockton.edu/media