Women of Color in Leadership Share Successes, Challenges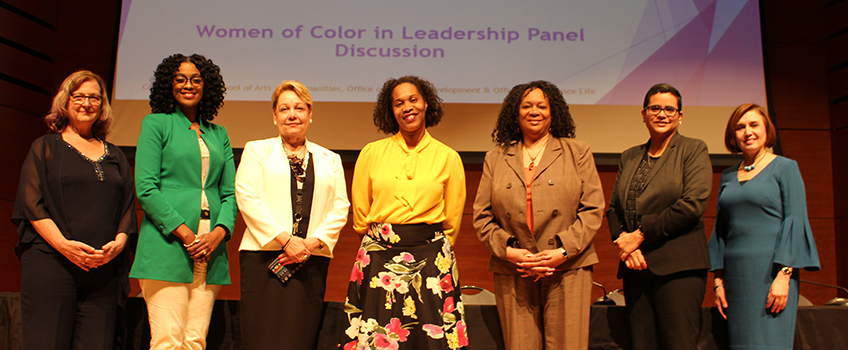 Galloway, N.J.– It's not easy being a woman of color in a leadership position, but it is crucial for women to take on those roles so they have a voice when decisions are made, speakers told the audience at a Women of Color in Leadership panel on March 27 in the Campus Center Theatre.
"If you are not invited to the table, then you are on the menu," said Kean University PASSPORT Program Coordinator and Manager Billie Bailey. "Be the one at the table."
Tamara Cunningham, Assistant Vice President of Global Initiatives at New Jersey City University, said there are times when she has been the token black woman appointed to a committee.
"But I look at them as opportunities to be a voice for students of color," Cunningham said.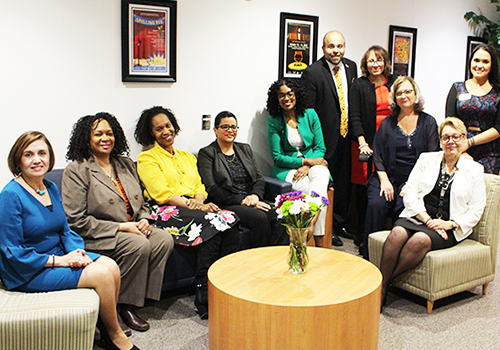 Stockton Professor of Criminal Justice Arleen Gonzalez, the only female Puerto Rican faculty member, said it can be lonely to be the only one of your kind at an institution.
You have to use your voice," she said. "There were others here who supported me."
Michelle Carrera, chief executive officer of the Boys & Girls Club of Atlantic City, said sometimes it is good to embrace the stereotype to get things done.
"You do have to have a thick skin," she said. "The road will be hard."
Nelida Valentin, a Stockton trustee and Vice President of Grants and Programs for the Princeton Area Community Foundation, said a fear of being wrong can prevent women from speaking up.
"The challenge and opportunity is to be willing to step up to the table and share what you can bring," she said.
Cunningham said sometimes it can feel uncomfortable to be the only woman of color in a meeting, or a department, but it is important to remember that she can contribute something unique to conversation.
"We must be steadfast, even if we are uncomfortable," she said.
Stockton Professor of Communications and Africana Studies Coordinator Donnetrice Allison, who is also president of the Faculty Senate, said early in her career she used to second guess herself.
"You have to know your own worth and say I'm here because I should be here," she said.
Speakers said mentors who look like them can be hard to find, but they should look for mentors in all areas. Speakers said many people have advised and mentored them including colleagues and friends.
"There is a fear of success," Gonzalez said. "The expectations can be so low that we are afraid to reach higher. But be fearless. Trust your education."
All of the speakers said they had experienced failure, but even worse is not trying.
"As a leader you will have failures," Carrera said.
Students were also told to be willing to promote themselves.
"If you don't toot your own horn, then it might never get blown," Bailey said.
Speakers were asked how they learned to turn down requests and keep growing.
"Find what you are passionate about and focus on that," Allison said.
This event was co-sponsored by Unidos, the School of Arts and Humanities, the Office of Student Development, and the Office of Residential Life. ARHU Dean Lisa Honaker served as moderator.
# # #
Contact:
Diane D'Amico
Director of News and Media Relations
Stockton University
Galloway, N.J. 08205
Diane.DAmico@stockton.edu
609-652-4593
609-412-8069
stockton.edu/media