New-Student Enrollment Increases 2% for Fall 2019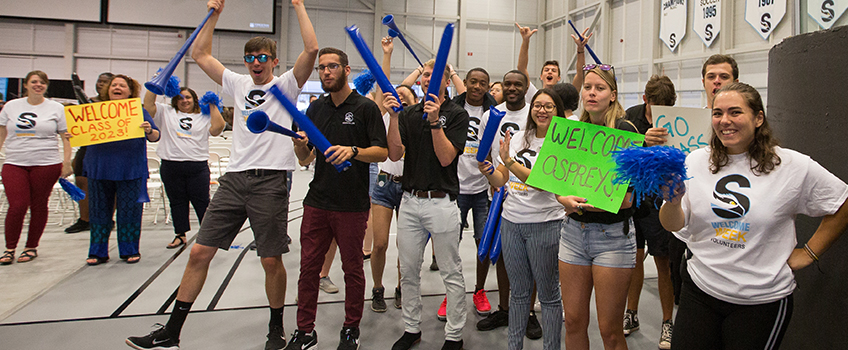 Galloway – Enrollment of new students at Stockton University increased 2% for fall 2019, putting the university on target to exceed its goal of 10,000 students by 2020.
More than 9,900 undergraduate and graduate students are enrolled for the fall, including nearly 8,900 undergraduates and over 1,000 graduate students. Stockton achieved a 2% increase in new students, which includes more than 1,500 freshmen, 1,100 transfer students and 400 graduate students.
Chief Enrollment Management Officer Robert Heinrich said Stockton received more than 6,900 freshman applications for fall 2019, a 14% increase over 2018.
Stockton became more selective in its admissions this year to maintain a freshman class size of 1,537, Heinrich said. The academic quality of the incoming class remained strong, specifically in terms of high school grade point average and average SAT scores, although Stockton is test optional and does not require students to submit standardized test scores for general admission.
Almost 100 students have indicated they would be enrolling in Stockton's new Transfer Pathways program, which allows students who were not admitted directly to Stockton to enroll in a dual-admissions program with a local partner community college, then transfer later to Stockton to complete their bachelor's degree. Fifty of those students are attending Atlantic Cape Community College, and the others are attending Brookdale Community College, Camden County College, Ocean County College, and Rowan College of South Jersey.
More students are also applying for federal and state financial aid, with more than 6,400 new freshmen and transfer students submitting the federal FAFSA form for financial aid, a 9% increase.
More than 3,000 students were granted merit- or need-based awards from Stockton.
By making great strides this recruitment cycle in enhancing the overall diversity of the student population, Stockton increased minority representation among the new students by 2%. More than 900 new undergraduates identify as a minority or mixed race.
Stockton also reported increased enrollment for summer 2019, with more than 2,536 students taking summer classes, a 4% increase from summer 2018.
Enrollment in courses offered at Stockton University Atlantic City has also grown by almost 30 percent since the new residential campus opened in fall 2018. This fall 1,682 students are taking at least one course at the Atlantic City Academic Center, up from 1,300 in fall 2018. More than 530 students live in the Residential Complex on the Boardwalk.
# # #
Contact:
Diane D'Amico
Director of News and Media Relations
Stockton University
Galloway, N.J. 08205
Diane.DAmico@stockton.edu
609-652-4593
609-412-8069
stockton.edu/media