Seven Students Studying in Nation's Capital this Fall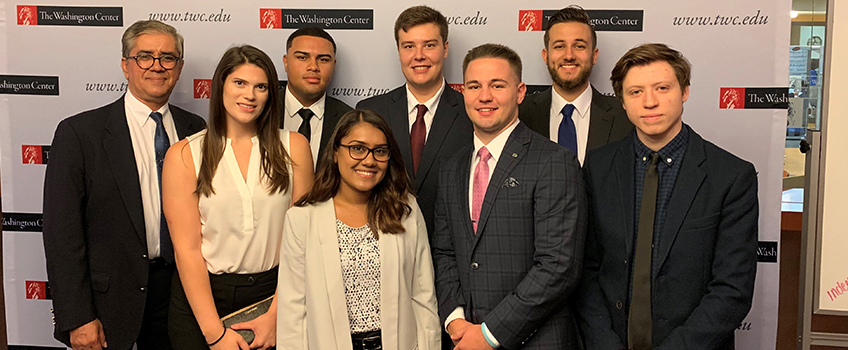 Galloway, N.J. – This semester, seven Stockton University students are interning in Washington, D.C. through the Washington Internship Program at Stockton. They come from different hometowns, backgrounds and fields, but what they all have in common is a desire to absorb as much information as they can to better prepare themselves for their professional futures. What better place to do so than the place Charles Dickens once coined as the "city of magnificent intentions?"
The students are:
David Nevil, a political science major from Wrightstown interning at Stuck in the Sand
Michael Krosnodomskie, a finance major from Mount Laurel interning at Prudential Financial
Maximiliano Torres, a criminal justice major from Newark interning at Same Day Process
Alexander Gile, an accounting major from Manahawkin interning at AbilityOne OIG
Nabila Sudha, a political science major from Egg Harbor Township interning at Rise for Justice
Jacquelyn Chamberlin, a criminal justice major from Hamilton, interning at United States Marshals Service (DOJ)
Ryan Webster, a political science major from Forked River interning at International Development Group
The Washington Internship Program is an intensive para-professional and academic experience in which students live, work and study in Washington, DC. It is made possible through Stockton's affiliation with The Washington Center in Washington, D.C.
The internships available include broadcast and print media, museum and cultural institutions, nonprofit, social service and advocacy organizations, and government agencies, including the White House. Students are provided housing through the Washington Center and earn college credit from Stockton.
"The Washington Internship Program provides a one-of-a-kind experience," said Program Coordinator Michael Rodriguez. "Students engage in hands-on education with professionals working within one of the most booming locations in the country. Not only do these internships significantly enhance marketability for professional jobs and graduate schools, but they also offer innumerable opportunities for personal development."
This semester's students have completed their orientations and begun their internships. Many said they are already noticing benefits.
"I am living in the city and working at a desk, and those are two things I have never done before because I have always lived in the suburbs and worked in retail," said Krosnodomskie. "I love it so far! It is easy to get around the city by train and bus. D.C. is also a great place to meet new people."
"My new landscape is vastly different from what I'm used to," said Nevil. "Galloway itself is a pretty small town, and [Wrightstown] is even quite a bit smaller than Galloway. To go from that to a city like D.C. is a gigantic change, but one that I've welcomed. This is a great opportunity in one of the most exciting and important cities in the world."
More than 900 Stockton students have participated in the Washington Internship program.
An information session about the program will be held from 4:30-5:45 p.m., Thursday, Sept. 19, in Unified Science Center Room 346. More information, including eligibility requirements and the application process, is on the Washington Internship Program webpage.
Reported by Kat H. Wentzell.
# # #
Contact:
Diane D'Amico
Director of News and Media Relations
Stockton University
Galloway, N.J. 08205
Diane.DAmico@stockton.edu
609-652-4593
609-412-8069
stockton.edu/media