The Wake Up Project Supports Student Mental Health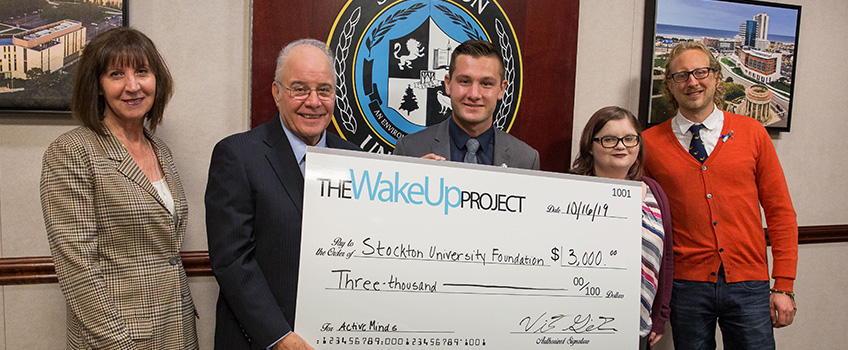 Galloway, N.J. - Proceeds from The Wake Up Project's Charity Wakeboard Competition and Food Truck Festival in July will help support suicide prevention and mental health awareness at Stockton University.
The Wake Up Project founder, Vincent Giardino of Mays Landing, a 2018 graduate of Stockton, presented a $3,000 check to representatives of the Stockton Foundation and the campus chapter of Active Minds at a reception on Oct. 16.
Active Minds focuses on mental health awareness, education and advocacy on issues that affect college students. Members of the group had volunteered at the charity event in July. Club president Julie Coker and Stockton Assistant Director of Counseling Services Nathan Morell said the funds will benefit students.
Stockton offers mental health programs and support groups throughout the academic year. Morell said more than 25 events are being held during the fall semester and more than 1,000 students have been screened for suicide prevention since September.
"We know people are out there suffering, even if they look good on the outside," Morell said. "We are reaching out and bringing services to them and building a community where people feel safe reaching out."
Stockton President Harvey Kesselman said he was honored and thrilled that a young Stockton alumnus was giving back to the university. Stockton Foundation Chair Donna Buzby thanked Giardino for supporting such a valuable service for students.
Giardino said his own life has been touched by suicide and it made him realize that more awareness is needed to identify and help people at risk.
"People are not doing enough, or they don't know what to do," Giardino said. "We have to get rid of the stigma so people are not afraid to ask for help."
# # #
Contact:
Diane D'Amico
Director of News and Media Relations
Stockton University
Galloway, N.J. 08205
Diane.DAmico@stockton.edu
609-652-4593
609-412-8069
stockton.edu/media