Vigil Remembers Victims of New Zealand Shootings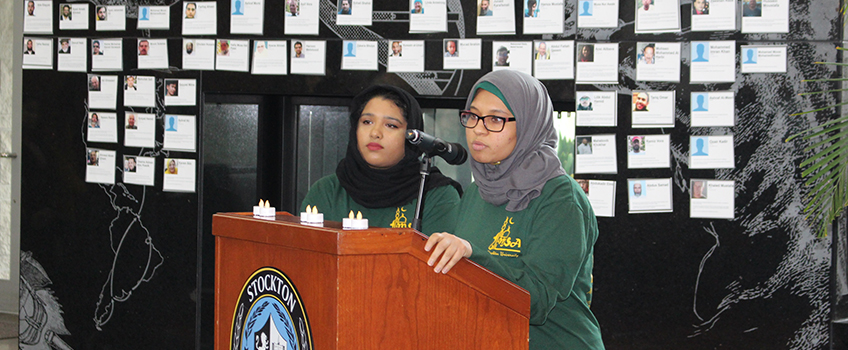 Galloway, N.J. - Photos and stories of the 50 victims of the shootings at mosques in New Zealand were displayed on the Stockton University Campus Center Grand Hall fireplace Friday during a vigil to remember the lives lost, and those who remain to mourn them.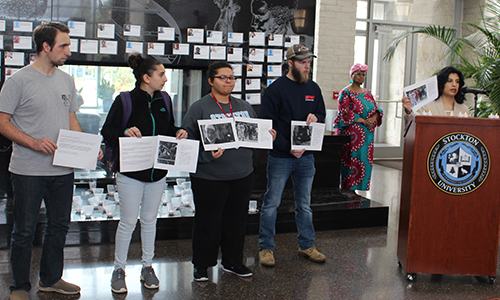 "Take the time to get to know the victims," said Tasbeeh Muhamed, president of the Muslim Student Association.
More than 100 people attended the vigil, which was co-sponsored by 15 groups on campus.
Student Sunnie Yousaf, accompanied by students holding up photos, talked about a few of the victims and survivors.
"I will not speak the name of the person responsible," she said. "But I will tell the stories of those who died."
She said afterward she was very nervous about speaking publicly, and while she supported many causes, this was the first time she had the courage to speak.
"If we stand in solidarity, we can get through this," she said.
Other speakers included Student Senate President Katie Coburn, Student Senator Lex Franklin, Assistant Vice President Stephen Davis, Taufique Aziz, the imam from Taqwa Mosque in Atlantic City, and Stockton President Harvey Kesselman.
"We can't focus on the darkness," Frankin said. "We must focus on the light."
Aziz said now is a time to be proud of one's heritage, and not to be afraid.
Kesselman urged those attending to do all they can to promote love, cooperation and collaboration among all people.
"It is up to each one of us," he said. Just show compassion for your fellow human beings. Pledge we can do more to have no more ceremonies of this nature."
Roses were distributed to those attending and those who received them were encouraged to share them with others.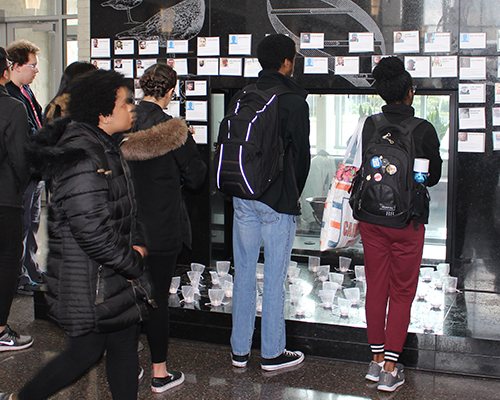 Groups sponsored the event were:
Muslim Students Association
La Mesa, Residential Oasis for Intercultural Engagement
SPACES
Pakistani Students Association
Hillel Jewish Student Union
Campus Religious Council
Students for Justice for Palestine
South Asian Students Association
Student Senate
Chabad
Holocaust Resource Center
Wellness Center
Office of Residential Life
Office of the Vice President for Student Affairs
Office of Student Development
A gallery of photos is on flickr.
# # #
Contact:
Diane D'Amico
Director of News and Media Relations
Stockton University
Galloway, N.J. 08205
Diane.DAmico@stockton.edu
609-652-4593
609-412-8069
stockton.edu/media