Student Veterans Get New, Larger Office and Lounge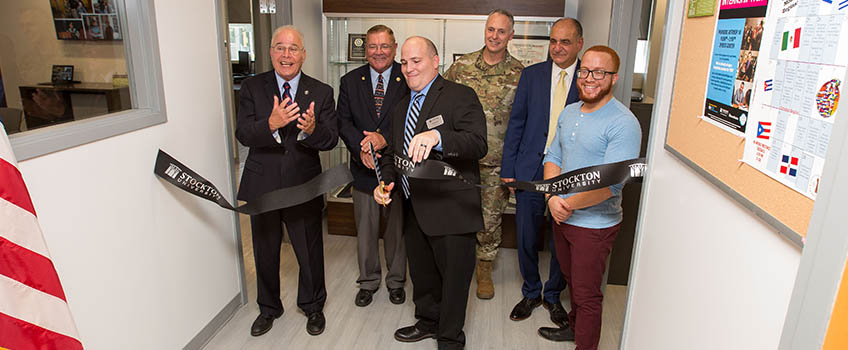 Galloway, N.J. – Stockton University's veterans have a new home.
The new, larger Office of Military and Veteran Services in lower F-wing was formally dedicated Oct. 1 in a ceremony on Independence Plaza followed by a ribbon-cutting and tours. The office includes a new, larger lounge for student veterans.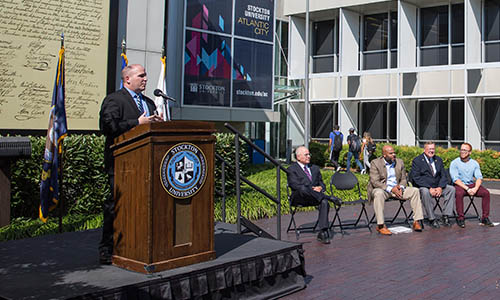 "Our job is to make sure our veteran students are successful," said director Jason Babin. "We are here for them from when they first walk in, to when they walk at graduation."
President Harvey Kesselman said Stockton University's commitment to veterans began when Stockton opened in 1971, welcoming many students and some faculty and staff who had served in Vietnam.
"We remember the past, but we look to the future," he said. "Our commitment is unwavering."
Retired veteran affairs director Tom O'Donnell said Stockton has increased services to meet demand. He recalled former president Herman Saatkamp establishing the first veterans lounge in 2008.
"We had asked veterans what they needed, and they talked about having a lounge," O'Donnell said. "We were closed for a storm in January for three days, and when we reopened, there was a lounge."
That lounge served veterans well, but has become far too small for the more than 400 student veterans and active military who now attend Stockton.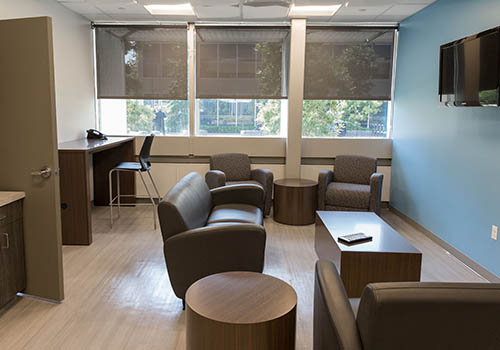 The new lounge has huge windows with a view of Independence Plaza. The lounge connects to the Office of Military and Veteran Services, so services are convenient.
"This is a milestone we deeply appreciate," said Student Veterans Organization president Angel Cordero of Woodbridge.
He who said the interest Stockton takes in its veterans is just one reason the university is ranked 24th in the nation as Best for Vets by Military Times.
Stockton waives application fees for veterans, and offers a special orientation and dedicated financial aid officer and counselor to assist them.
Cordero said having Babin's office right next to the lounge makes it easy for veterans to seek services and create a camaraderie with other student veterans.
"It feels more comfortable here, and Jason will just come out and talk to you," said Michael Martelli, of Galloway.
Jackie Auld of Cape May Court House was already using the lounge's computers to print out a paper he needed for class.
Auld, 58, retired from the Army and is getting his degree in social work.
"I use the lounge all the time," he said. "It's a place to come chill before class. I want to get my degree so I can help other veterans. You're never too old to give back."
More information is at stockton.edu/veteran-affairs.
# # #
Contact:
Diane D'Amico
Director of News and Media Relations
Stockton University
Galloway, N.J. 08205
Diane.DAmico@stockton.edu
609-652-4593
609-412-8069
stockton.edu/media