Veterans Honored at Annual Coining Ceremony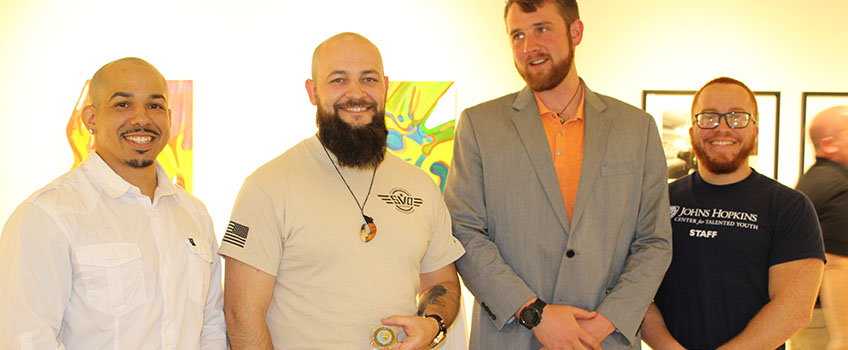 Galloway, N.J. - Graduating seniors with ties to the military were presented with special Stockton coins at a ceremony in the Art Gallery on April 25.
Sixty seven seniors are eligible for the coin this year. Jason Babin, director of the Office of Military and Veteran Services, and Vice President of Student Affairs Christopher Catching made the presentations.
Catching mentioned that in the fall veterans will have a new, larger veterans lounge in F wing.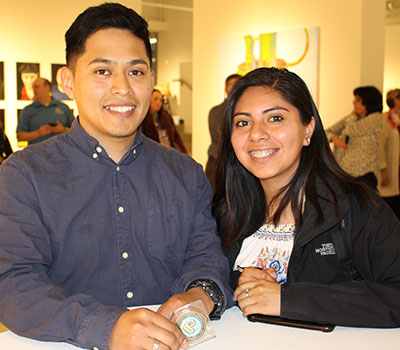 "More than 400 military and veteran students attend Stockton," Catching said. "We are constantly trying to improve and strengthen our services."
Babin said he works closely with the students and is proud of their accomplishments.
"They are amazing people, close to my heart," he said.
Babin explained the coining ceremony tradition:
Members of the U.S. military have a long-standing tradition of carrying a special coin symbolizing unit identity and esprit de corps. With bonds forged in battle thousands of miles from home, these custom coins minted for military units – each bearing their own revered symbols and mottos – capture the essence of their affiliation and their fierce pride. Known to generations of American military personnel as challenge coins, they are a vital part of military life today and are revered by troops in every branch of service.
Today, challenge coins are carried by soldiers, sailors, airmen, and Marines, as well as lawmen and firefighters. These coins identify the bearer as a member of a particular unit with a well-defined history and mission. And, wherever warriors gather, they challenge each other by "coining." The group's unique coin is slammed on a bar to challenge all in the group to display their own coins; he who is last must pay a penalty.
The tradition of challenge coins can be traced to World War II when American forces deployed to the far reaches of the globe securing the nation's freedom. Soldiers back to World War I and the Civil War left for battle with a coin from home in their pocket and kept it after the conflict as a lasting remembrance of their wartime experiences.
A challenge coin is not merely a token. Challenge coins today are a tangible source of pride for America's warriors at every level in the chain of command. Today we will be presenting our graduates with one such coin to symbolize our commitment to them and their commitment to us.
Graduates receiving the coin are: Andrew Anderson, Miguel Aranas, Michael Berenotto, Thomas Braun, Dylan Carr, Sean Carson, Kirsten Chervenak, Alexis Clark, Makenzie Cox, Scott DeLussa, Jessica DiBlasi, William Doyle, John Erlandson, Christine Fireall, Christopher Fowler, Nicholas Geannakakes, Matthew Gorham, Danisha Hemingway, Casey Hendrickson, Devin Hodges, James Hopp, Alex Howley, Maria-Jose Ibarra, Tashea Jackson-Medley, Joseph Jeranek, Megan Kelly, Michael LaClaire, William Lacouture., Edmund Lopez, Laura Mann, Steven Markano, Brian McBride, Nicolas Merced, Roger Metcalf, Eric Montesinos Rojas, Ian Murray, Stanley Peiffer, Ernesto Perez, William Perkins, Michael Prusik, Alpalonnia Riley, Mary Ruiz, Francis Sapang, Michael Simons, Ashley Smith, Victoria Spano, Shaun Stebbins, Richard Taroncher, Craig Thomas, Collin Tidd, Tammera Tozer, Jason Weber, Lucas Wick, Peter Zarriello,.
Also, Lashel Blunt, Nicholas Celenza, Andre Daigle, Richard DeCola, Catherine Fulmer, Robert Luurtsema, Dennis Mohr, Warren Nelson, Jonathan Nelson, Jason Northedge, Marion Pasiglao, Jaymes Swain, Shatira Williams.
View a gallery of photos from the event.
# # #
Contact:
Diane D'Amico
Director of News and Media Relations
Stockton University
Galloway, N.J. 08205
Diane.DAmico@stockton.edu
609-652-4593
609-412-8069
stockton.edu/media