Ventnor Couple Establishes Scholarship
Galloway, NJ – Michelle and H. Paxson Keates of Ventnor have donated $50,000 to the Stockton University Foundation to establish an endowed scholarship fund for students.
Longtime supporters of Stockto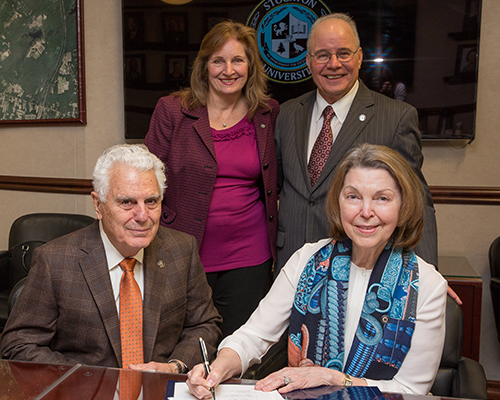 n and its students, the couple established the Michelle and H. Paxson Keates Endowed Scholarship to create a permanent source of scholarships for students.
"We wanted to do something impactful and permanent that can grow," Michelle Keates said. "The plan is to continue adding to it."
Michelle Keates is a 1976 graduate of Stockton and member of the Stockton Foundation Board of Directors. She was a co-creator and chair of the first Scholarship Benefit Gala in 1980, and she and Paxson established their first annual scholarship nearly a decade ago.
"It's not just the financial help," Michelle said. "It's also motivational to give students a step up and show we support them. We want to help build tomorrow's leaders."
Stockton President Harvey Kesselman said he is proud to have Stockton entrusted with the funds.
"With the establishment of this generous endowment, they are ensuring that Stockton students will continue to receive scholarship funds in their name in perpetuity," Kesselman said.
Stockton Chief Development Officer and Executive Director of the Foundation Dan Nugent said more than 500 scholarships were awarded by the Foundation in 2018-19, and the application period for next year is underway now.
"It is through generous endowments like the Keates' that we can continue to give our students the assistance they need to graduate with less debt," Nugent said.
Foundation chair Johanna Johnson said scholarships have an immediate impact on a student's life and education.
"Every scholarship reduces financial stress and helps make a student's life a little easier," Johnson said.
PHOTO CAPTION: Paxson and Michelle Keates, seated, with Stockton President Harvey Kesselman and First Lady Lynne Kesselman, sign Endowed Scholarship Agreement.
# # #
Contact:
Diane D'Amico
Director of News and Media Relations
Stockton University
Galloway, N.J. 08205
Diane.DAmico@stockton.edu
609-652-4593
609-412-8069
stockton.edu/media