Urban Teacher Academy Gives Budding Teachers a Taste of Teaching in the City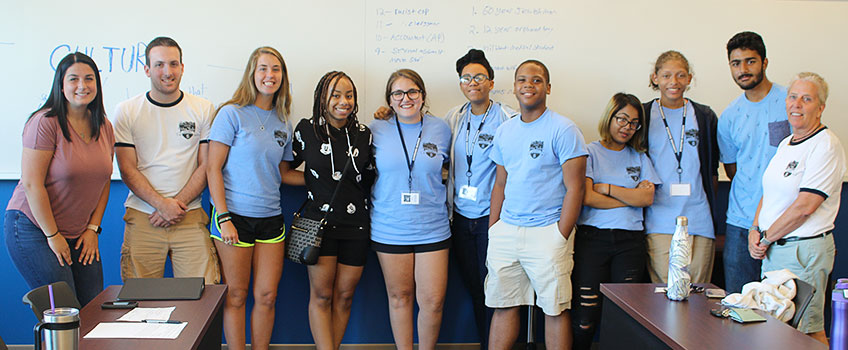 Galloway, N.J. – What does it mean to be a teacher? What are the qualities of an effective teacher? What do teachers need to know about the community and their students in order to be successful? These are a few of the questions explored within the Urban Teacher Academy at Stockton University.
The weeklong Urban Teacher Academy is a program available to high school students interested in the field of education, and serves as a long-term recruitment strategy to increase the pool of candidates interested in becoming teachers, especially in urban schools.
The academy is led by Associate Professor of Education Meg White, and her goal is to change perceptions of urban schools. Her assistant this year was Stockton Historical Studies senior Anthony Kappmeier, who is currently pursuing his teaching certificate.
Every morning, Kappmeier held a morning meeting with the eight participating students and introduced the "theme of the day." The activities of each day reflected the theme and served to introduce new ideas and perspectives about teaching.
Day One's theme focused on understanding others. White initiated a "Privilege Walk," in which students were instructed to step forward if certain statements applied to them. For example, when White said, "Step forward if your parents went to college," or "Step forward if you have health insurance," those who applied had to oblige. At the end of the exercise, students were able to visually recognize the differences between them.
"After, they discussed how these differences made them feel," said White. "It helped them discover who they are and where they are in relation to others, and how they can bring their discoveries into teaching."
Day Two's theme centered on the qualities of an effective teacher, and the importance of taking the time to connect with students personally. White emphasized the notion that students are much more than words in reports and documents.
Day Three was a recreational day. The students took a tour of Stockton's Galloway campus, and particularly enjoyed checking out the infamous and picturesque Lake Fred.
"It was so, so beautiful," said Atlantic City High School senior Yousef Afzal. "Stockton is so beautiful."
Day Four's theme concentrated on what it means to teach in an urban setting and what it means to have a disability. The goal was to widen the students' cultural lenses and help them rethink prior s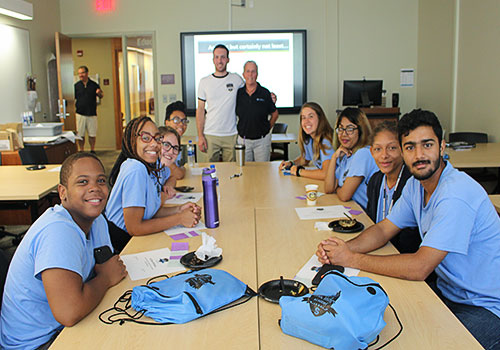 tereotypes and prejudices they may have previously held.
On Day Five, students visited the Noyes Arts Garage of Stockton University, as well as the Absecon Lighthouse and the Atlantic City Aquarium.
"What I love about all of these photos," said White during her slideshow for the students' parents on Wednesday, July 3. "is that all of the kids are smiling, as if they didn't just meet a few days before. I'm smiling because I get to do this."
Day Six's theme focused on culture, and how it can play a large role in connecting with students. White compared culture to an iceberg: "20 percent is visible, and 80 percent is not."
This day, Stockton Instructor of Education Stacey Culleny and Atlantic City Police Lieutenant Wilbur Santiago also advised students about being a communicator and a positive, kind community member.
Day Seven's theme focused on the qualities of an effective urban teacher, and was the final day of activities for the students. White took the students to visit the Richmond Avenue and Sovereign Avenue Schools in Atlantic City, where they had the opportunity to interact with the students and faculty there.
"I used to think that teaching in urban areas was dangerous, but after visiting two, I realized that the schools are actually very well maintained and offer many opportunities to their students," said Rumson-Fair Haven Regional High School senior Margot White.
Day Eight consisted of White's photo slideshow, and a Galloway campus tour for the students' family members. Students were encouraged to register for Stockton's Teacher Education programs.
"[Participating in the academy] has been one of the best experiences of my life," said Atlantic City High School senior Da'Shon Williams.
This year's participating students were: Aamirah Hickman from Rancocas Valley High School, Jesslyn Johnson from Egg Harbor Township High School, Grace Miceli from Howell High School, Yousaf Afzal from Atlantic City High School, Keathrin Biswas from Atlantic City High School, Da'shon Williams from Atlantic City High School, Sampson Feliciano from Pleasantville High School, and Margot White from Rumson-Fair Haven Regional High School.
Interested in attending next year's academy? Registration is limited to 15 students. To register, students must fill out an application, as well as write two essays: one about why they want to become teachers, and another about a teacher that made a special impact on their lives and why. Students must also possess a GPA of 2.8 or higher, obtain two professor recommendations, and be enrolled in college preparatory classes. Special consideration is given to students interested in teaching in urban schools and/or high shortage subject areas such as math, science, special education, world languages, bilingual and early childhood education.
No tuition is charged for the Urban Teacher Academy. Students will not pay for books, materials, field trips, and other admissions. For more information, check out the program brochure or contact White at Meg.White@stockton.edu.
Reported by Kat H. Wentzell.
# # #
Contact:
Diane D'Amico
Director of News and Media Relations
Stockton University
Galloway, N.J. 08205
Diane.DAmico@stockton.edu
609-652-4593
609-412-8069
stockton.edu/media