'Glow Up' Fair Showcases On-Campus Opportunities for Students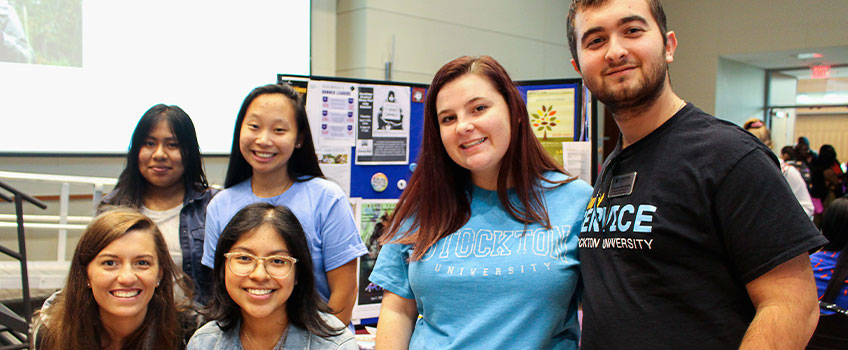 Galloway, N.J. – Students were introduced to a plethora of on-campus opportunities, including internships, jobs and study abroad trips, at the second annual "The Glow Up" Opportunity Fair on Oct. 15 in the Campus Center Event Room.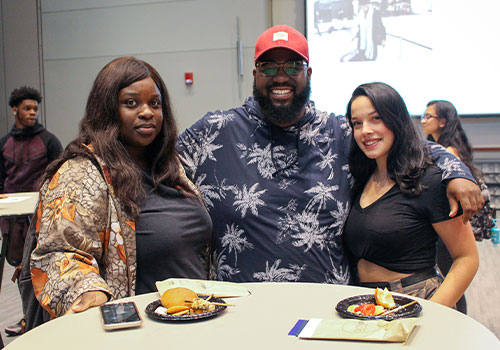 The Glow Up was designed to connect students of color and other underrepresented identities to campus leadership positions with the use of informational tables and campus representatives. This event featured nearly 20 offices tabling and sharing their open positions, paid and unpaid, including selection timelines, applications processes, and the benefits of the position/opportunity.
Darius Edwards, Stockton Atlantic City complex director, said he created the event to encourage more students of color to take advantage of opportunities at Stockton.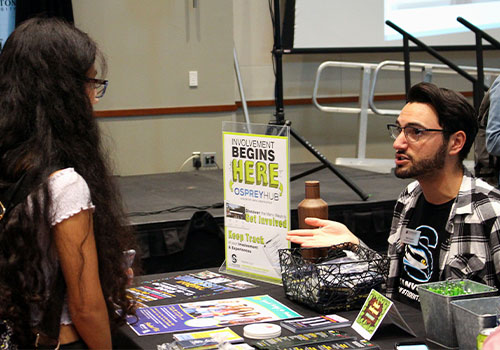 "I wanted to create a direct recruitment process in the hopes of gaining a more diverse applicant pool and an increased involvement rate for students of color," Edwards said.
A few of the participating entities at the event included Residential Life, TogetHER, Student Senate and Service Learning.
"We wanted to participate because we wanted to tell students that working on campus helps you become more approachable and empathetic, and really improves your public speaking skills," said senior Jill Ranes from Cherry Hill, who works as a certified peer educator at the Wellness Center. "It's also just super important to get involved on campus."
Junior Nick Siani from Flemington, who is currently involved in the C.O.P.S. internship program with the Stockton Police Department, agreed.
"It's great to get your face out there," he said. "It's great to be active within the community."
This event was sponsored by the Office of Residential Life and Career Education and Development.
View a photo gallery on Flickr.
Missed the event but still interested in working on campus? Contact Career Education and Development at (609) 652-4650 or careers@stockton.edu, or stop by Campus Center Suite 104.
Residential Life's next large event will be "The Pose Community Ball @ Late Night Breakfast" from 9 p.m.–12 a.m. Dec. 3 in the Campus Center Event Room. This event will occur during Residential Life's biannual "Late Night Breakfast," where breakfast foods are offered to students to ease the tension of finals week. This event will be an interactive, live experience that explores the intersections of fashion, dance, belonging, and history for what the house and ballroom scene has been for queer communities of color. According to Edwards, "Pose" will also be a modeling and dance competition where attendees can compete for prizes.
Reported by Kat H. Wentzell.
# # #
Contact:
Diane D'Amico
Director of News and Media Relations
Stockton University
Galloway, N.J. 08205
Diane.DAmico@stockton.edu
609-652-4593
609-412-8069
stockton.edu/media