Teen Tech Introduces STEM Fields to High School Girls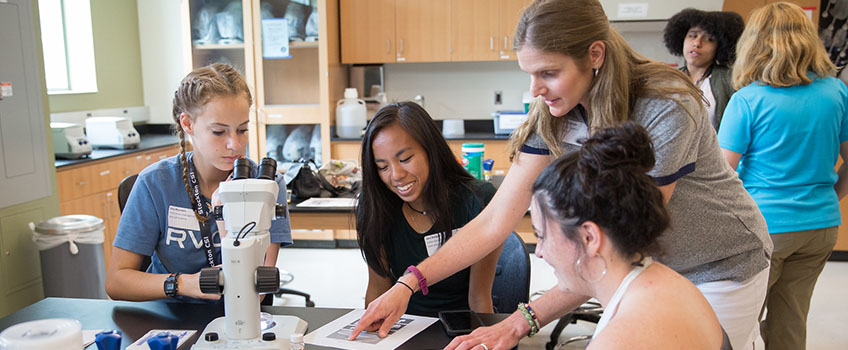 Galloway Township, N.J. _ Ocean City High School student Grace Johnson put the icy cold piece of vanilla wafer in her mouth, then expertly "puffed" the smoke it created like a dragon, impressing the other girls in the "Chemistry of Cuisine" workshop at the AAUW Teen Tech held at Stockton University on May 29.
Other girls quickly followed, testing ice cream frozen with nitrogen.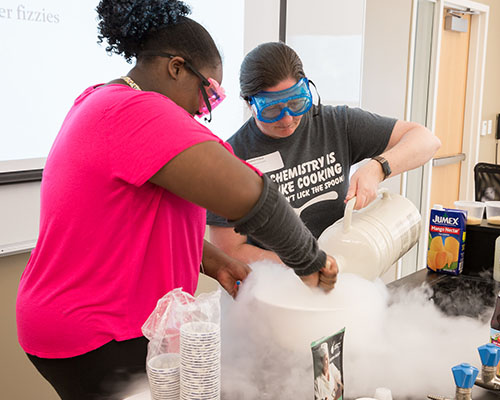 "Be careful, they get really cold," Associate Professor of Chemistry Elizabeth Pollock said as she made ice cream dots with a dropper.
"It's not bad," Thompson said of the ice cream.
The 100 girls from six area high schools spent the day learning about careers in science, technology, engineering and math by doing hands-on activities across the campus.
They engineered paper race cars, some taking inspiration from the aerodynamics of airplanes and others putting stability as their main goal. Students competed based on the cost of building their car, and the distance it traveled.
Heldreth Yu, a student at the Atlantic County Institute of Technology, said her team's car won because while it did not travel the longest distance, they had the lowest cost, adding just $1 to the basic cost of their car kit.
"There are lots of problems left to solve in the world, and you can find new problems too," said race car workshop leader Christina Young, an engineer who works for the Federal Aviation Administration at the William J. Hughes Technical Center.
Young, Lakaisha Ajaegbulemh, Valerie Lively and Mary Delemarre, volunteered at the workshops through the IEEE Women in Engineering.
The 11 workshops offered to the students also included Brain Science, CSI Crime Scene, The Great Plankton Race, Laser Figures, Ocean Waves, Coding Ozobots, Recording Brain Activity the Science of Psychology and Seals and Dolphins.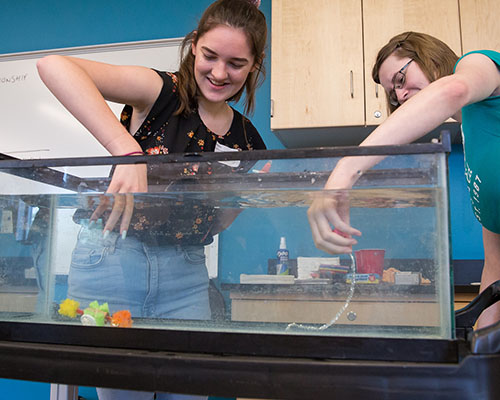 Delaney Brown, a student at Lower Cape May Regional High School, grew up seeing dolphins in Cape May, especially while tubing in the summer. She was surprised to learn that there are a variety of species of marine mammals that can be seen at the Jersey Shore.
Bottlenose dolphins summer here, while harbor porpoises winter here, she explained.
Jackie Sullivan, an adjunct instructor at Stockton who specializes in marine mammology, and Linda Dotts, who works for the School of Natural Sciences and Mathematics to support laboratory activities, shared their work with New Jersey's marine mammals, explaining how seal scat (or poop) helps scientist study what seals eat.
Scat contains fish ear bones called otoliths, which are "distinct to each fish species, like a fingerprint," explained Sullivan.
In the Ocean Waves workshop students used Legos to create shoreline protection structures that were tested in a wave tank. Some of the structures stood up well to routine waves but collapsed under the weight of heavier storm waves.
"We are looking at how waves interact with the shoreline," said Associate Professor of Marine Science Susanne Moskalski, who ran the workshop with Assistant Professor of Marine Science Anna Pfeiffer-Herbert.
Abby Nives from Rumson-Fair Haven High School and Kona Glenn from Egg Harbor Township High School returned to adapt their Lego structure to see if they could improve its performance in storm conditions.
"We need to fill in the sides because water got through," Nives said.
Kiersten Keywood said she enjoyed the psychology workshop presented by Sara Martino, even though it was less hands-on that the others.
"It was really oriented to our generation, and she was a really good speaker," Keywood said.
The event is held every other year at Stockton and is co-sponsored by the American Association of University Women of New Jersey and Stockton's School of Education, coordinated by Dean Claudine Keenan. Other participating Stockton faculty were Shelly Meyers, Kelsey Hoban and Caroline Smith, Christine Thompson, Joe Trout, Michelle Wendt, and Jessica Fleck.
The six participating schools this year were Absegami, Atlantic County Institute of Technology, Egg Harbor Township, Lower Cape May Regional, Ocean City and Rumson-Fair Haven.
-Reported by Diane D'Amico and Susan Allen
# # #
Contact:
Diane D'Amico
Director of News and Media Relations
Stockton University
Galloway, N.J. 08205
Diane.DAmico@stockton.edu
609-652-4593
609-412-8069
stockton.edu/media