N.J. Senate President Sweeney Holds Town Hall in A.C.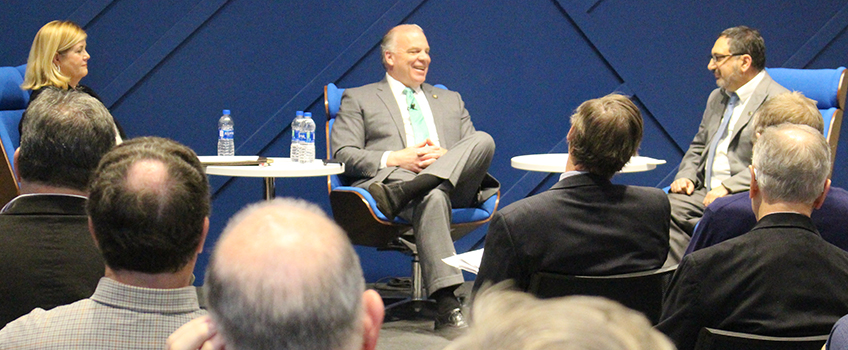 Atlantic City, N.J. –Almost 200 people came to hear and question N.J. Senate President Steve Sweeney at a public Town Hall at the Stockton University Atlantic City Academic Center on April 3.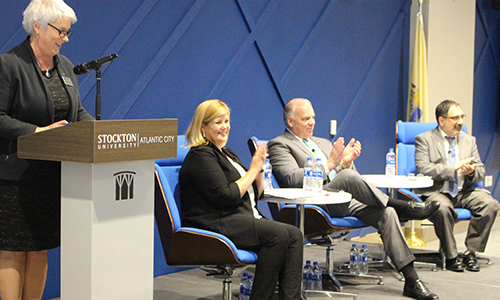 Sen. Sweeney outlined the Path to Progress (the report of the New Jersey Economic and Fiscal Policy Working Group), which covers pension and benefit reform, education reform, county and municipal government reform and shared services, and state and local government tax structure.
The event was co-sponsored by the Southern New Jersey Development Council and the William J. Hughes Center for Public Policy at Stockton. It was moderated by Stockton alumna Brigid Callahan Harrison, a political science and law professor at Montclair State University and John Froonjian from the Hughes Center.
Stockton President Harvey Kesselman said he was pleased to give the public a chance to hear and question Sweeney.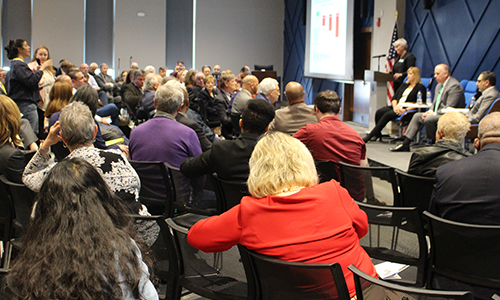 "It is the role of a university to be a marketplace of ideas," he said. He said he had recently met with other state college presidents, and all agreed that Sweeney has been influential in having a positive effect on higher education in New Jersey.
Marlene Asselta, president of the SNJDC introduced Sweeney, who spoke about how he got involved in politics and outlined the issues he believes are critical to the state's future.
Following his presentation, Sweeney fielded questions from the audience, including Stockton social work major Keyuana Griffin asked why college is so expensive. Sweeney said it is because the state has not supported the colleges.
Other questioners asked about the future of the pension system, the proposal to consolidate school districts, esports opportunities in Atlantic City, future plans for the Atlantic City International Airport, and the state's role in Atlantic City.
The Atlantic City event was one of several town hall meetings Sweeney has held around the state.
A video of the town hall event can be viewed on the Hughes Center website at:
https://livestream.com/StocktonUniversity/pathtoprogress
# # #
Contact:
Diane D'Amico
Director of News and Media Relations
Stockton University
Galloway, N.J. 08205
Diane.DAmico@stockton.edu
609-652-4593
609-412-8069
stockton.edu/media