SVO Displays Wall of Remembrance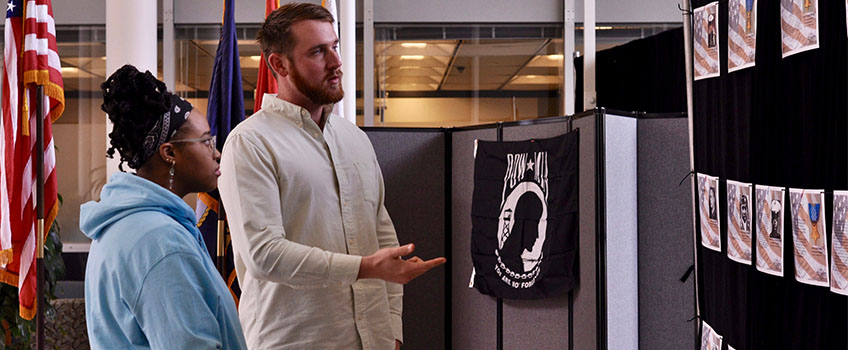 Galloway, NJ – Stockton University's Student Veteran Organization paid tribute to the African-American Medal of Honor recipients through a Wall of Remembrance recently. The display featured stories of 30 African-American service members who received the Medal of Honor.
The Medal of Honor is the highest award a service member can receive for their bravery in action. As of now, there are only 89 African-Americans who have been awarded this distinction. The SVO selected 30 recipients to showcase on the Wall of Remembrance, which was held in conjunction with Black History Month.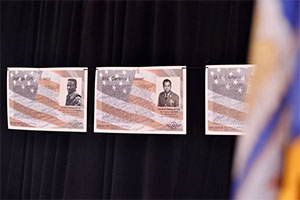 SVO members, including Colby Jones, SVO secretary, and Dylan Carr, chief of staff, developed the display. The group had a vision of providing recognition to these African-American service members by spreading the history of why they received the Medal of Honor to the Stockton community, Carr said.
The Wall of Remembrance was displayed Feb. 26-28 to spread awareness of the sacrifices that these men made for our country, even though many had been previously enslaved. The men who were featured were brave and put themselves before others for the sake of the country, Carr said.
"It is giving light to a part of our military history that is sometimes overlooked," said SVO member Elizabeth Gilson. "African-American service members, as well as women, have played such an integral role in the military since the beginning and it is nice to be giving that back to the public."
Some of the tributes included Sergeant William Harvey Carney, who was credited with being the first African-American recipient for the Medal of Honor, and Clarence E. Sasser, who treated Vietnam soldiers despite being wounded himself.
This was the first Wall or Remembrance event the Student Veteran Organization has hosted, and they plan on having more in the future. They would like to share the remaining 59 stories by displaying 30 stories every February until they have recognized all 89 African-American Medal of Honor recipients.
Reported by Amanda Lally
Photos courtesy of the Stockton Photography Club
# # #
Contact:
Diane D'Amico
Director of News and Media Relations
Stockton University
Galloway, N.J. 08205
Diane.DAmico@stockton.edu
609-652-4593
609-412-8069
stockton.edu/media