Live and Learn at the Beach this Summer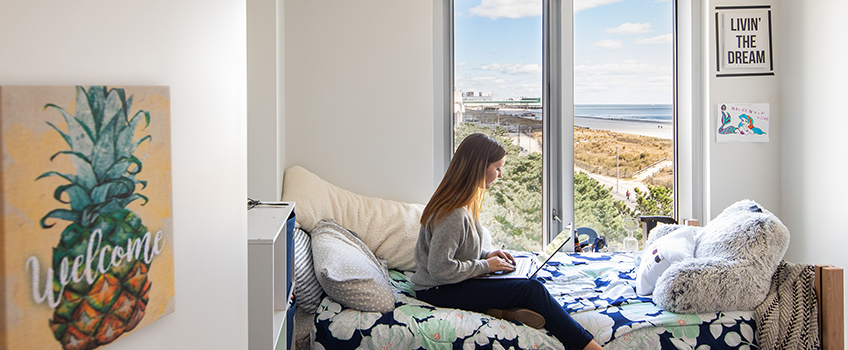 Galloway, N.J. _ College students can live and learn on the beach this summer in Stockton University Atlantic City's new beachfront Residential Complex.
Stockton students and students attending other colleges can live in Stockton's beachfront housing if they take summer courses at Stockton, or are doing a college internship in or around Atlantic City. Businesses in the area providing summer internships can also work with Stockton to provide housing for their interns.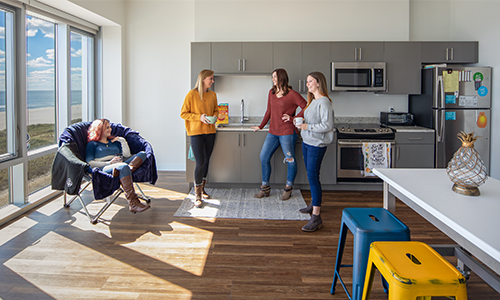 "We are pleased to be able to offer a safe, affordable summer housing option to our students and to students from other colleges," said Stockton Executive Director of Residential Life Steven Radwanski. Stockton police have an office in the Residential Complex and there is swipe-card access and security on site.
Stockton University student Breanna Betts will spend her summer in an apartment with a beach view.
"I was on board from the beginning," said Betts, who lived in Atlantic City during the academic year and will spend her summer working in the city.
A Hospitality and Tourism major from Manchester, she said she likes being able to take advantage of the learning and recreational opportunities in the city.
"I love that the building has a view of the beach. I'm so excited for the summer. I can roll out of bed onto the beach. And I don't have to worry about parking. It's so simple to walk or hop a jitney."
There are five types of apartments ranging from private studios to 6-person shared bedroom units. All units have kitchens and the rates include free laundry and free parking in the adjacent garage.
Rates for Stockton students are $22 to $40 per day based on the type of housing. Rates for non-Stockton students are $32 to $40 per day. Units are also available to faculty and staff for $42 to $50 per day.
Stockton is also offering a discount on summer tuition. Students can take three classes for the price of two if they take one of those classes at Stockton's sites in Atlantic City, Woodbine, Manahawkin or Hammonton. Classes will also be offered online and on the main campus in Galloway.
More information about living at Stockton this summer is available online from Stockton Residential Life. Information about summer courses is online at stockton.edu/summer19.
Follow Angel on an Instagram tour of Stockton AC.
(Photos courtesy Dinofa Photography)
# # #
Contact:
Diane D'Amico
Director of News and Media Relations
Stockton University
Galloway, N.J. 08205
Diane.DAmico@stockton.edu
609-652-4593
609-412-8069
stockton.edu/media