Star of the Sea Students Meet Rabbi Who Was Topic of School Essay Contest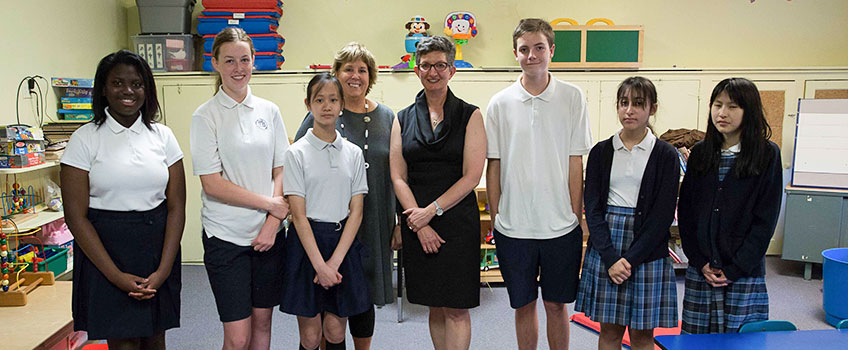 Atlantic City, N.J. – Seventh and eighth graders from Our Lady Star of the Sea Regional School in Atlantic City received a surprise visit on June 11 from Rabbi Francine Roston from Whitefish, Montana, a woman they just recently wrote about for a school assignment.
Every year, the school hosts an essay contest that is overseen by former state senator Bill Gormley. School principal Susan Tarrant said that this year, the students were tasked with "[describing] the response of religious and legal groups to the anti-Semitic internet attacks that took place in Whitefish, Montana." They were given relevant articles and quotes from leaders like Martin Luther King to help them with their writing.
In 2014, Roston moved to Whitefish from New Jersey. In December 2016, she became the target of white nationalist Richard Spencer. Spencer unleashed what he called a "troll storm" on Roston, her family, and her neighbors, where he and other like-minded individuals began sending threats, publishing addresses and phone numbers, and posting hateful images via the Internet. When they realized what was happening, community members stepped up to help the victims.
Roston was in Atlantic City on June 11 to share her story at an international summit on faith-based violence at Stockton University Atlantic City. The students of Our Lady Star were surprised to actually meet her. John Bulthuis, an eighth grader from Atlantic City, told her that he learned a lot from the contest, and was especially excited that he learned different ways to combat hate groups.
Tarrant said the experience was beneficial for the students, and that she hopes they retained a message of love.
"We need to love all the time, regardless of if we are oppressed," she said. "Showing love should be a part of everyday life."
Reported by Kat H. Wentzell
# # #
Contact:
Diane D'Amico
Director of News and Media Relations
Stockton University
Galloway, N.J. 08205
Diane.DAmico@stockton.edu
609-652-4593
609-412-8069
stockton.edu/media