Student Relief Fund Benefit Raises $13,000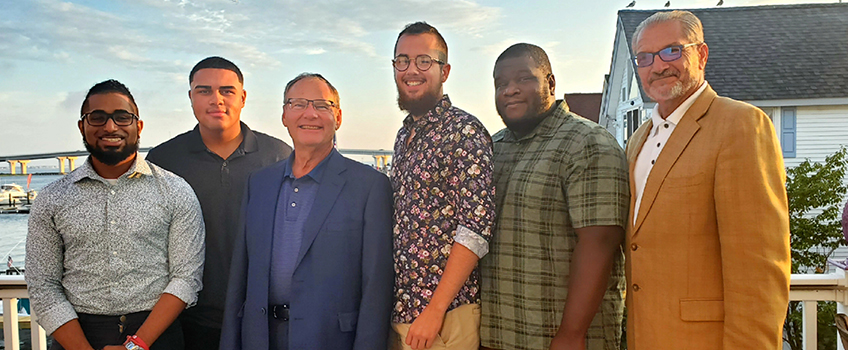 Galloway, N.J. - Dr. Ira Trocki of Reliance Medical Group hosted the Stockton University Foundation's Student Relief Fund Benefit on Wednesday, Aug. 14, at Shari's Bistro at Tavern on the Bay Resort in Somers Point. This is the second year in a row that Dr. Trocki sponsored the event, which treated guests to a cocktail reception and stunning views of the bay.
During the evening, Dr. Trocki made a $5,000 gift to kickoff the year's fundraising for the Student Relief Fund, which directly supports Stockton students facing extreme financial hardships.
"I am happy to be able to support the Student Relief Fund," said Dr. Trocki. "This is what it means to be a part of the community."
Collectively, supporters and friends raised more than $13,000 for the Student Relief Fund, which provides critical financial assistance to students, helping to make their dreams of a college education a reality.
"I am glad this program was set up to help assist students who run into financial hardships," said Michael Faulk '20, a Student Relief Fund recipient. "This program helped me when I was in a bind, and if it weren't for this program, I probably wouldn't have been able to graduate on time."
Since September 2017, the Student Relief Fund has provided assistance to dozens of students who otherwise might not have been able to continue their education.
"This particular program directly impacts the day to day to lives of young people where $500 can be the difference between a student leaving or staying in school," said President Harvey Kesselman. "This is about making sure that these students not only have the opportunity to access higher education but can finish their education."
To support the Student Relief Fund, visit Stockton.edu/studentrelief.
- Reported by Alexandra Sandberg
# # #
Contact:
Diane D'Amico
Director of News and Media Relations
Stockton University
Galloway, N.J. 08205
Diane.DAmico@stockton.edu
609-652-4593
609-412-8069
stockton.edu/media