Five Students Contribute to 'Stories of Atlantic City'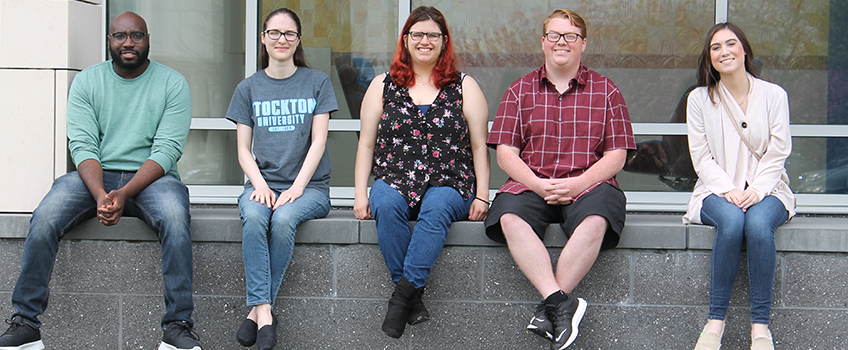 Galloway, N.J. – Five Stockton University students have contributed to a multi-media project to tell stories about Atlantic City and its residents.
By sharing the stories of the Atlantic City Skate Park, the role of jazz in shaping the city's identity and mentors in shaping its children, the students learned not just about the city, but also about how to be professional communicators.
The stories and videos were produced as part of Stories of Atlantic City, a collaborative project wth other area media focused on telling restorative, untold stories about Atlantic City and its people. The partners met with community leaders and residents to develop themes for their stories.
For sophomore Alexa Taylor of Egg Harbor Township and senior Luke Miller of Manahawkin, the Skate Park story was a small piece of a larger story about taking an interest in the youth of Atlantic City and the city's image.
""When Jason Forslund (one of the park's promoters) went to Venice Beach in California he thought 'why couldn't we have this in Atlantic City,' " Taylor said.
"He saw that it is was more than just a skate park, it was a community gathering place," Miller said.
Junior Marissa Luca of Egg Harbor Township featured the role of mentors in the city's education system.
May 2019 graduate Shannon Joyce of Leesburg focused on the role of jazz in Atlantic City, from the Chicken Bone Beach Historical Society to hot music spots in the city.
Katelyn Woolford wrote about using holistic measures like yoga to deal with mental health issues in the city.
Kedar Dockery, a 2016 graduate who works with Stockton Student Television, also worked with the students to assist with their production.
Instructor of Communication Studies Toby Rosenthal Associate Professor of Communication Studies Suya Yin, and Erin O'Hanlon, Program Coordinator for Service Learning and Adjunct Faculty for Communication Studies helped the students organize, write and edit their pieces.
Students said the projects taught them skills they could not get just in a classroom.
"I learned how to approach a project in a professional way and not just as a student," Miller said. "You have to earn their trust."
Luca enjoyed the creativity of telling a positive story.
Joyce learned how much work it is to set up interviews, then take a mountain of material and turn it into a 1,000-word story.
"My goal is to write for a living," Joyce said. "This is great for my portfolio."
All learned how to make a deadline for the stories, which were published on May 14 at storiesofatlanticcity.com.
The Stories of Atlantic City project was a collaborative media effort, produced in partnership with Free Press, the Center for Cooperative Media at Montclair State University, ivoh (Images of Voices and Hope), Stockton University, Authentic City Partners and ThisIsAC co-founder Evan Sanchez, Grace & Glory Yoga and The Leadership Studio co-founder Alexandra Nunzi, The Press of Atlantic City, Route 40, SJNtv and Breaking AC.
It was funded with a grant from the NJ Community News and Information Fund at the Community Foundation of New Jersey, a partnership of the Geraldine R. Dodge Foundation and John S. and James L. Knight Foundation.
Rosenthal said she hopes the project can continue so that more students have the opportunity to develop projects and more stories of Atlantic City can be told.
"I really hope this is just the beginning," she said.
# # #
Contact:
Diane D'Amico
Director of News and Media Relations
Stockton University
Galloway, N.J. 08205
Diane.DAmico@stockton.edu
609-652-4593
609-412-8069
stockton.edu/media