April: 'Stockton Undistracted' Month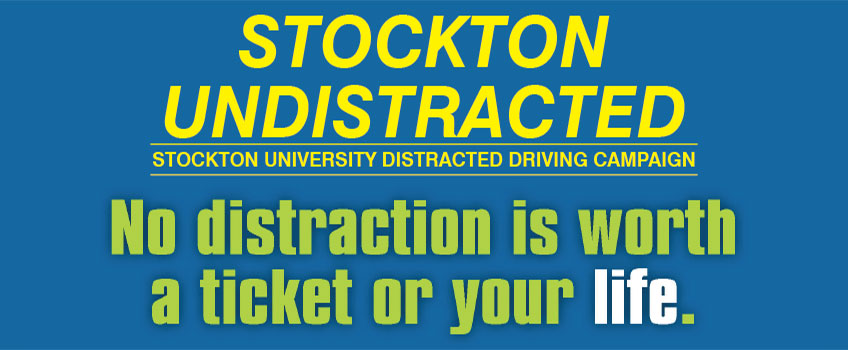 Galloway, N.J. – For the entire month of April, Stockton University will participate in the "Driving Undistracted" campaign — a nationwide effort to reduce distracted driving accidents and fatalities.
"Stockton Undistracted" will include education, commitment and enforcement, all focusing on the message that no text is worth a ticket, your life, or someone else's life; put away the distractions and drive. The program's main event, "Cones with Cops," will be hosted from 2-4 p.m. April 15 in the Campus Center coffeehouse, featuring ice cream and safe driving materials and information from traffic cops.
According to the Stockton police department, at any given daylight moment across America, approximately 481,000 drivers are using handheld cell phones, even while traveling. In 2016, an estimated 391,000 people were involved in motor vehicle accidents involving a distracted driver.
According to Safer America, a consumer safety website, texting while driving is one of the most common distracted driving habits. Texting increases the chance of a crash by 23 percent, and one of every four car accidents in the United States is caused by just phone usage behind the wheel alone.
Citizens can participate in Stockton Undistracted by visiting the campus police webpage and pledging to drive undistracted. Each pledge is a chance to win a free Apple iPad mini. The winner will be contacted via email once the campaign is over.
Reported by Kat H. Wentzell.
# # #
Contact:
Diane D'Amico
Director of News and Media Relations
Stockton University
Galloway, N.J. 08205
Diane.DAmico@stockton.edu
609-652-4593
609-412-8069
stockton.edu/media