Stockton Partners with High School 'Great Stories Club'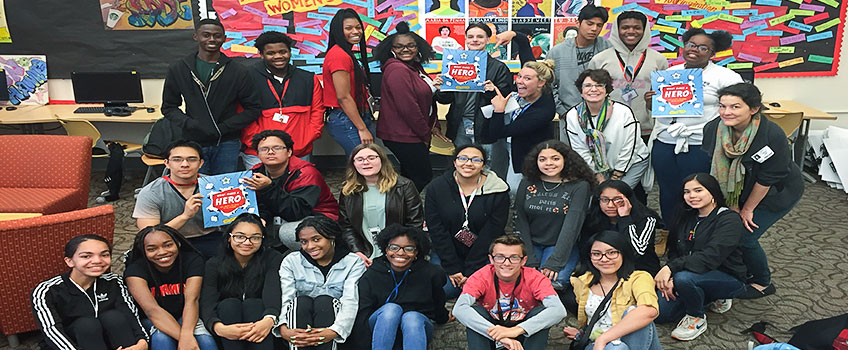 Galloway, N.J. – Stockton University faculty participated this year in a special book club and discussion group at the Atlantic County Institute of Technology (ACIT) in Mays Landing that addressed the themes of empathy and what it means to be a hero.
ACIT's Media Center was chosen by the American Library Association (ALA) to participate in the "Great Stories Club," a nationwide reading and discussion program for underserved teens supported by the National Endowment for the Humanities (NEH). ACIT's Media Center is one of 70 libraries nationwide, and the sole New Jersey library to receive this grant.
ACIT Media Specialist Amy Ojserkis and other ACIT educators, in partnership with Stockton University's Why the Humanities Matter Institute for Teachers (WHM), directed by Associate Professor of Literature Adalaine Holton, met with students from ACIT and the Atlantic County Alternative High School to read and discuss stories that explored the program's themes of "Empathy: the Cost of Switching Sides" and "What Makes a Hero?: Self, Society, and Rising to the Occasion."
The Great Stories Club book list was curated to inspire young teens, especially those facing difficult circumstances, to think about their existences and their futures from a more worldly perspective. The book list included: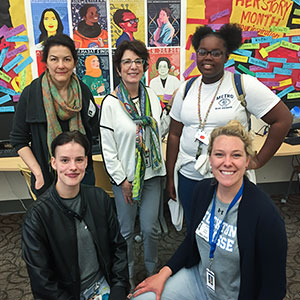 "Flight" by Sherman Alexie

"Pipestone: My Life in an Indian Boarding School" by Adam Eagle

"Kindred: A Graphic Novel Adaptation" by Octavia Butler, Damian Duffy, and John Jennings

"Stuck in Neutral" by Terry Trueman

"March: Book Three" by John Lewis, Andrew Aydin and Nate Powell

"Black Panther: A Nation Under Our Feet, Book 1" by Ta-Nehisi Coates and Brian Stelfreeze

"Binti" by Nnedi Okorafor

"What Can(t) Wait" by Ashley Hope Pérez

"Buck: A Memoir" by M.K. Asante
Participating faculty were General Studies Adjunct Professor Lydia Fecteau, Visiting Assistant Professor of Literature Nesrine Chahine, Associate Professor of Literature and WHM Coordinator Adalaine Holton, and Associate Professor of Creative Writing Cynthia King, who served as session leaders and professional resources. Literature major Sa'Miyah Wright, Literature major Maura Twiggs, and Liberal Arts major Aimee Balint served as discussion facilitators and participants.
Ojserkis said she asked Stockton to partner in the project because she had attended its WHM programs several times and felt that the faculty involved would serve as excellent discussion leaders for the ALA/NEH grant topics.
"The students were really interested in the topics, and the four sessions with Stockton faculty allowed them to meet college professors and get some idea of what attending college might be like," Ojserkis said.
Holton said partnering on the grant was a wonderful opportunity to bring Stockton faculty into a local high school and share the faculty's passion and appreciation for the humanities with high school teachers and students.
"I was especially excited by the grant themes, as well as the selections of texts provided by the ALA/NEH grant," Holton said. "The texts were recently published, written by authors from a range of backgrounds, and covering topics of importance to young adults today."
Holton said the partnership was very rewarding. She also said the Stockton Literature program hopes to develop future collaborations with ACIT English teachers and students.
This year's Why Humanities Matter Summer Institute for K-12 Teachers will explore the importance of the humanities to the social and political issues that shape our world. It will be held from July 15-18 at Stockton University Atlantic City. Topics include Race Riots in the U.S. 1917-1923, Oceania in the Popular Imagination, and the History and Cultures of African Diaspora Communities Throughout America. There will also be a trip to the Museum of the American Revolution in Philadelphia for a workshop on Signs and Symbols of the American Revolution.
Reported by Kat H. Wentzell.
# # #
Contact:
Diane D'Amico
Director of News and Media Relations
Stockton University
Galloway, N.J. 08205
Diane.DAmico@stockton.edu
609-652-4593
609-412-8069
stockton.edu/media