Spotlight On: Managers Complete Leadership in Action Training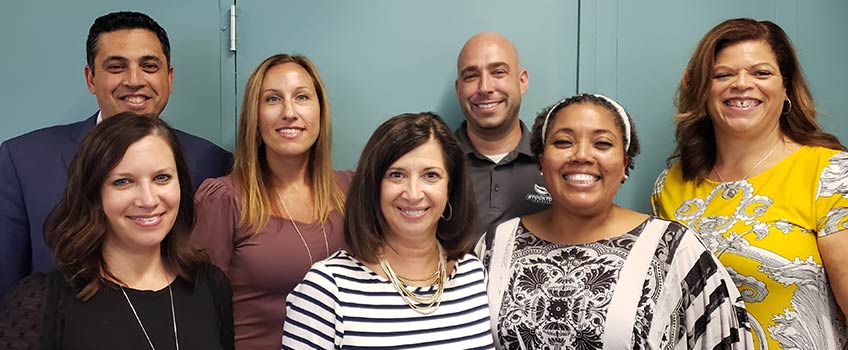 The first cohort in Stockton's Leadership in Action (LIA) program, sponsored by the Office of Human Resources, recently completed their year-long training. Eight managers across departments wrapped up their leadership academy experience that included a deep dive on a variety of leadership competencies, including driving change, influencing others, coaching for peak performance and communicating for leadership success.
Nominated by cabinet members last summer, the cohort includes Marissa Levy, dean of the School of Social and Behavioral Sciences; Ariane Newman, assistant dean of the School of Health Sciences; Marie Ricci, senior executive assistant to the Vice President of Administration & Finance; Chris Connors, associate director of Financial Aid; Haley Baum, assistant dean of students, Stockton Atlantic City; Walead Abdrabouh, director of Information Systems & Business Intelligence; Lolita Treadwell, former deputy chief of staff; and Rhianon Lepree, director of Real Estate.
"The Leadership In Action program brought together a diverse group of motivated individuals - who serve in different capacities and hail from various offices throughout the campus – to assist us in our desire to lead from a position of influence," said Treadwell.
The cohort completed four leadership courses designed by Development Dimensions International, participated in a 360-feedback survey process, and engaged in a variety of discussions focused on leadership challenges and strategies for maximizing leadership strength at Stockton by working collaboratively across divisions and departments.
"When I started the LIA program, my hope was to identity small ways to improve my leadership skills," Abdrabouh said. "What the program ultimately taught me was there are various styles of leadership and no 'one size fits all' approach for every circumstance. By hearing the experiences and perspectives of my LIA colleagues, and learning new principles through the program, I feel I now have a much better approach to leadership."
"The knowledge gained and the camaraderie birthed from this initiative not only broadens the professional horizons of its participants, but as a result, benefits everyone in the Stockton community who are touched by its participants," said Treadwell. "I am very pleased to have been a part of its inaugural cohort, and I hope the program continues to grow and expand exponentially."
The group drafted a 2020 proposal for funding to continue the program for other managers at Stockton as their culmination project. The proposal will be submitted for review to the 2020 committee.
Reported by Samantha Whitehurst