Eleven Social Work Seniors Receive Program Distinction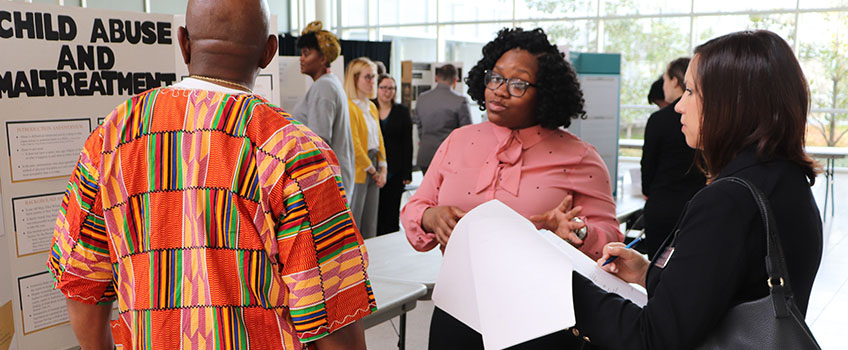 Galloway, N.J. _ Eleven seniors in the Social Work Program received Program Distinction Honors for presentations and research they prepared.
The students recognized are: Hailee Collier, Sarah Eddy, Kristina Ferguson, Ashley Marte, Valencia Thompson-Manago, Jennifer Negron, Meghan Privitello, Cameron Scarano, Shaun Stebbins, LaToya Sullivan, and Jeanine Welsh.
Students gave oral presentations of their work, and also displayed poster presentations and answered questions from the judges, Assistant Professor of Social Work Ted Alter, Dean Marissa Levy and Professor of Social Work Lisa Cox judged the presentations.
"We were very impressed with their interest and passion," Alter said.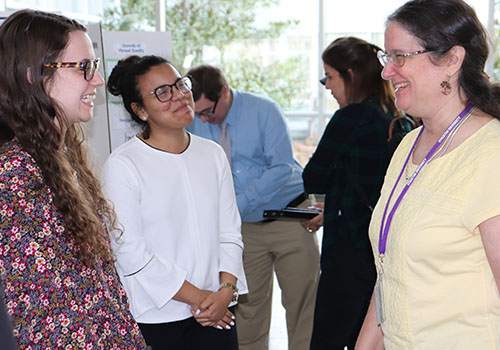 Student topics were:
"Treating Witnesses of Trauma as Victims of Trauma" by Sarah Eddy
"Mental Health Care of Imprisoned Populations" by Hailee Collier;
"The Role of Mental Health in Gun Violence," by Valencia Thompson-Manago
"No Child Left Behind and the Effects on Students with Disabilities by Kristina Ferguson;
"Sex Work: Understanding a Stigmatized Population by Meghan Privitello;
"Social Work's Role in Assessing and Intervention with Child Migrants" by Jennifer Negron;
"Risk Factors of Perpetrators and the Importance of Social Work Interventions" by Ashley Marte;
"Law Enforcement Officers and Mental Health Training," by Cameron Scarano;
"Child Abuse and Maltreatment" by LaToya Sullivan
"Harnessing Virtual Technology: Pioneering New Interventions for Social Work" by Shaun Stebbin; and
"The Effects of Smart Decarceration on Family Life" by Jeanine Welsh.
View a gallery of photos from the event.
# # #
Contact:
Diane D'Amico
Director of News and Media Relations
Galloway, N.J. 08205
Diane.DAmico@stockton.edu
609-652-4593
609-412-8069-cell
stockton.edu/media